Tyler Ford
12/10/2020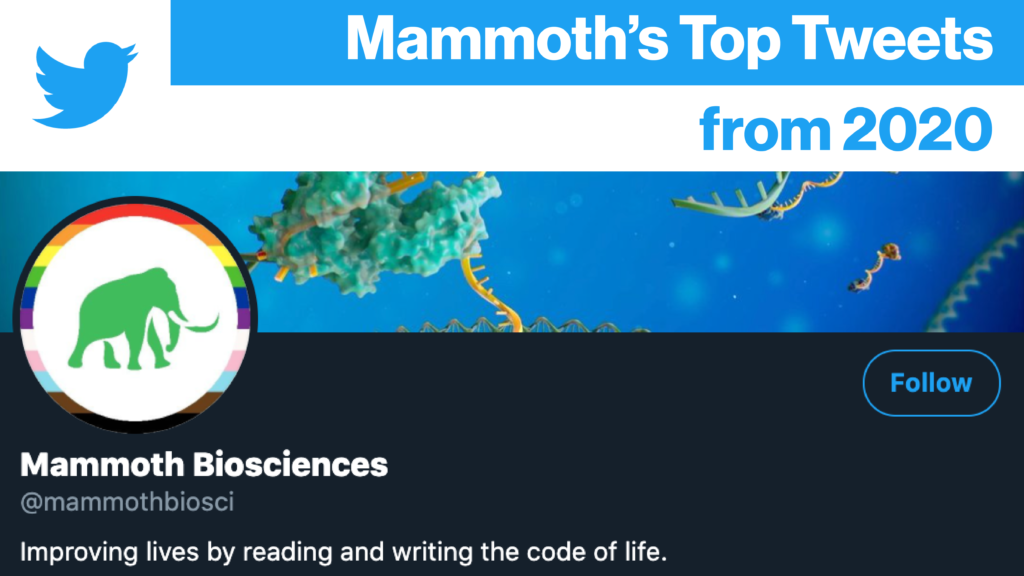 2020 has been quite a year for all of us, but, even this year, there are many things to celebrate! In this blog post, we celebrate our top tweets of 2020. These tweets serve as a summary of the work we've been doing to make CRISPR diagnostics a reality and to bring CRISPR out of the lab and into everyday life.
CRISPR-based DETECTRTM platform white paper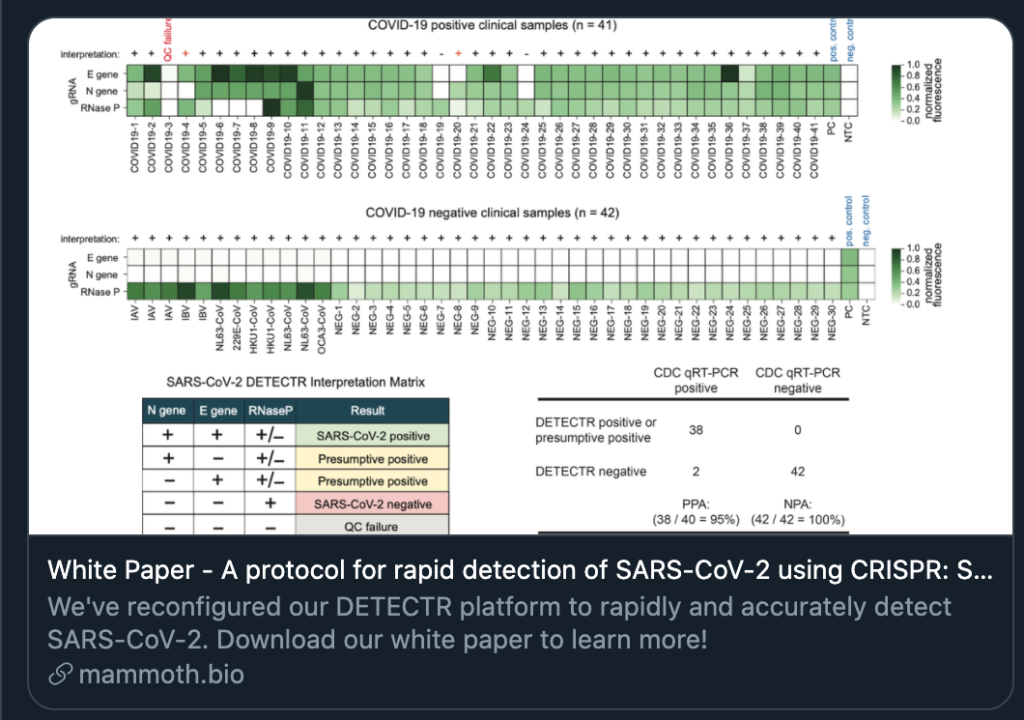 As the COVID-19 pandemic spread across the globe, we acted rapidly to create a CRISPR diagnostic for the SARS-CoV-2 virus. In February we published a white paper describing our protocol for rapid detection of SARS-CoV-2 using CRISPR. The webpage hosting the white paper has over 12,000 views!
Since releasing the white paper, we published a research article in Nature Biotech. This article shows that our CRISPR-based DETECTR assay can accurately detect SARS-CoV-2 in real patient samples. It forms the basis upon which we're building both point-of-need and high throughput diagnostic assays for SARS-CoV-2.
Collaboration with GSK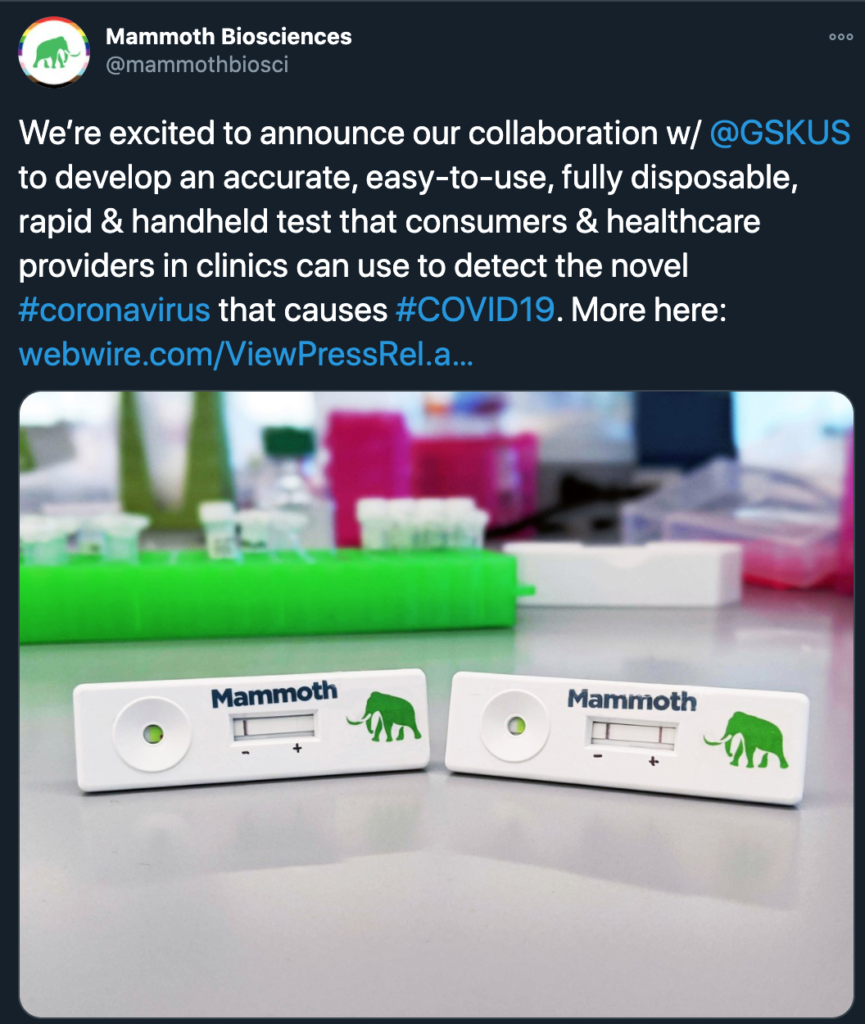 In May we announced a collaboration with GSK to develop an accurate, easy-to-use, fully disposable, rapid, and handheld test that consumers and healthcare providers can use to detect the novel coronavirus.
The tweet announcing this collaboration got over 27,000 impressions! This is a testament to the need for new COVID-19 rapid testing solutions. Our work in this area is on-going and we hope to provide updates on our progress soon!
Professors Doudna and Charpentier win the Nobel Prize in Chemistry
In October, we celebrated Mammoth Co-Founder, Professor Jennifer Doudna and her 2020 Nobel Prize in Chemistry. Professor Doudna shares the prize with Professor Emmanuelle Charpentier, Managing Director of the Max Planck Unit for the Science of Pathogens in Berlin. These amazing #WomenInScience received the award for their roles in the development of CRISPR genome editing.
Professor Doudna's research laid the groundwork for Mammoth and two of our Co-Founders, Janice Chen and Lucas Harrington, come from the Doudna lab. As Janice recently remarked on a panel with Professor Doudna at the 2020 Stat Summit, Professor Doudna's support has been and continues to be essential to Mammoth's success.
DETECTR BOOST™ SARS-CoV-2 Kit*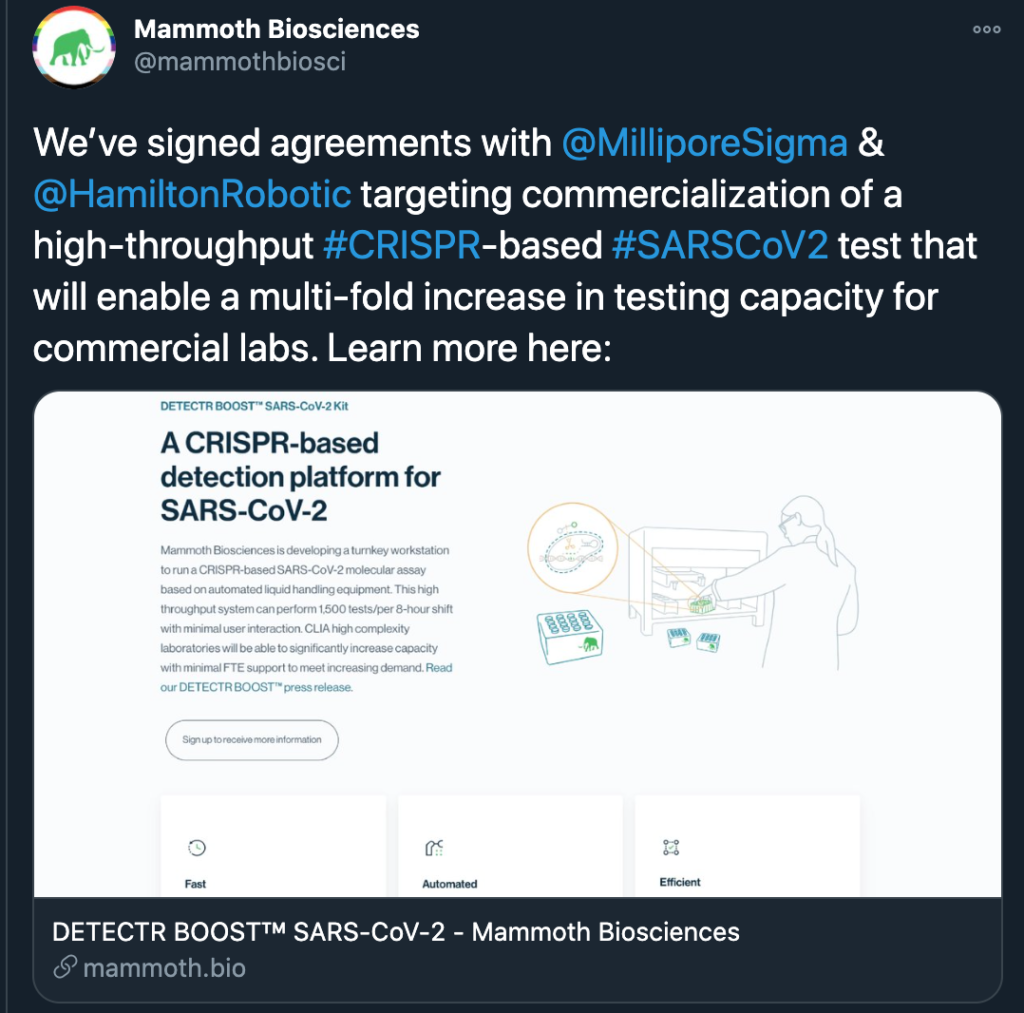 And finally, this tweet announces our agreement with MilliporeSigma and Hamilton Robotic targeting commercialization of the DETECTR BOOST™ SARS-CoV-2 Kit*. This is a high-throughput, CRISPR-based detection platform for SARS-CoV-2. We hope this kit will make it easier for commercial laboratories laboratories to significantly increase their testing capacity. If you head over to mammoth.bio/covid/, you can learn more about the platform and sign up for even more information.
That's a wrap on our top tweets from 2020. Be sure to follow us on Twitter, LinkedIn, Facebook, and Instagram to keep up-to-date on developments at Mammoth!