Mammoth Biosciences
10/31/2022
As part of our Hispanic and Latinx Heritage Month celebrations, we recently sat down with two Latinx leaders in the life sciences industry. Our goal was to get their insights on the challenges and opportunities facing Latinx people and especially Latinas in the life sciences. We live tweeted the event here and you can find answers to some questions curated from the chat below, but, first, some background or Dr. Romero and Dr. Artunduaga.
Liana F Romero, PhD, MBA, MT, Sr Director, Global Marketing & Product Management for Clinical Decision Solutions, Beckman Coulter Danaher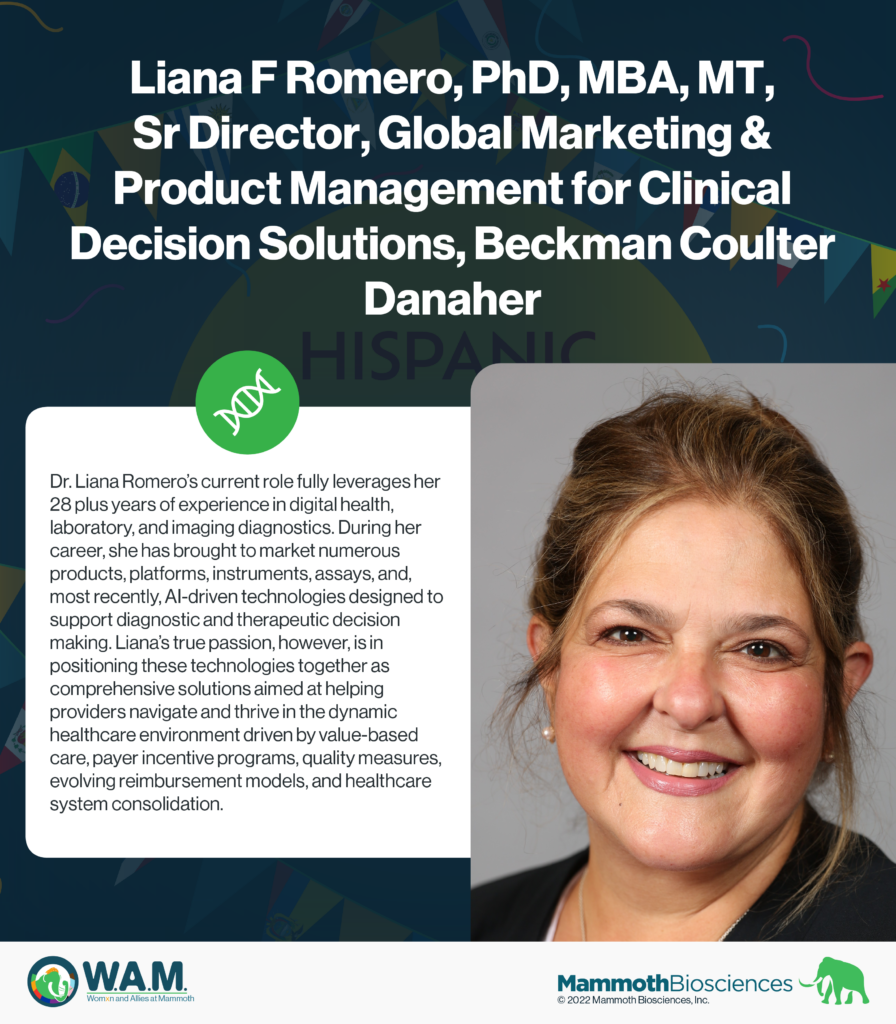 Dr. Liana Romero is Senior Director, Global Marketing and Product Management for Clinical Decision Solutions within Beckman Coulter, a Danaher company. In her position, Liana is focused on the product development, global launch, commercialization, and marketing of an innovative AI/ML clinical decision support portfolio for risk assessment of patients experiencing acute, life-threatening conditions.
Liana's current role fully leverages her 28 plus years of experience in digital health, laboratory, and imaging diagnostics. During her career, she has brought to market numerous products, platforms, instruments, assays, and most recently AI-driven technologies designed to support diagnostic and therapeutic decision making. Liana's true passion, however, is in positioning these technologies together as comprehensive solutions aimed at helping providers navigate and thrive in the dynamic healthcare environment driven by value-based care, payer incentive programs, quality measures, evolving reimbursement models, and healthcare system consolidation.
In addition to a PhD in Public Health Epidemiology of chronic diseases, Liana holds a Masters in Global Business Management, and an undergraduate degree in clinical biochemistry. She sits on the board of the Delaware Valley HIMSS chapter, has written numerous papers, and is a member of CHIEF women's executive network.
On a personal level, Liana enjoys spending time with her husband, sons and their families, her extended family, and her Havanese pup Luna. Cooking, travel, reading, and furniture refurbishing are only a few of the many hobbies that she pursues.
Maria Artunduaga, MD, MPH, MTM CEO, Samay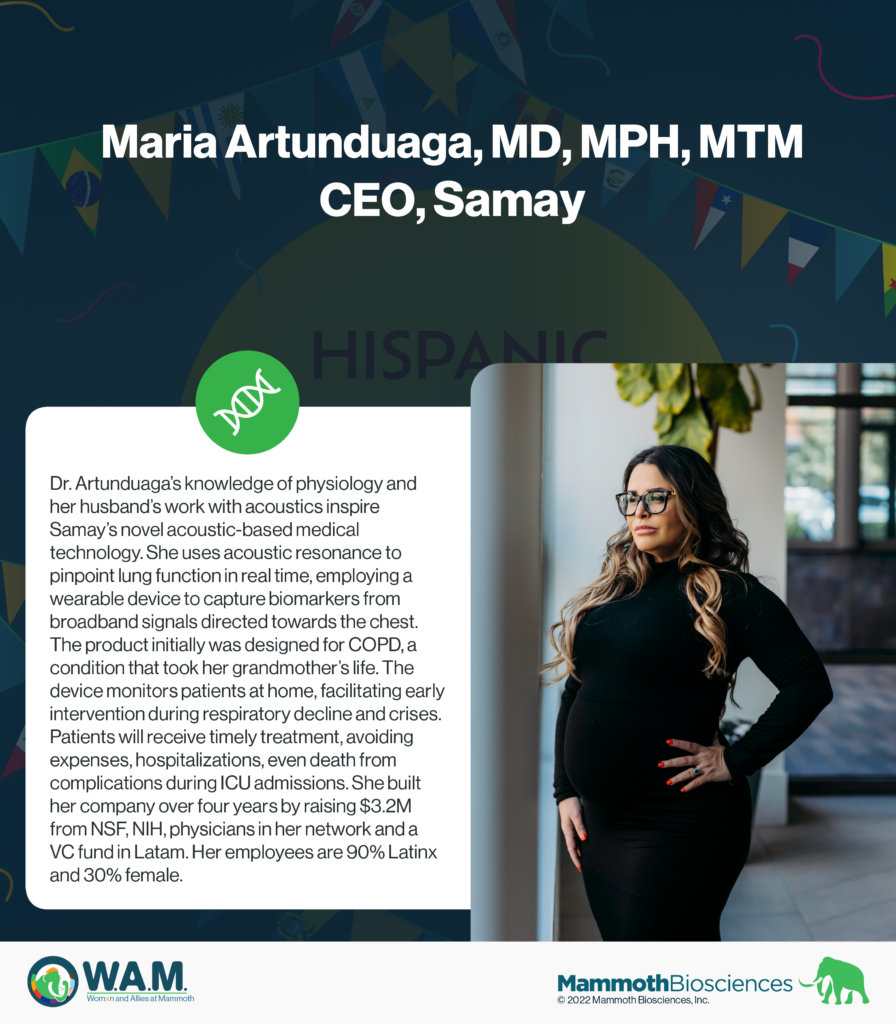 Translational physician-scientist-inventor, Dr. Maria Artunduaga is CEO of Samay (f.k.a. Respira Labs), a Silicon Valley company building an AI-driven sensor platform for 800M respiratory patients worldwide affected with lung diseases.
Dr. Artunduaga's knowledge of physiology and her husband's work with acoustics inspire Samay's novel acoustic-based medical technology. She uses acoustic resonance to pinpoint lung function in real time, employing a wearable device to capture biomarkers from broadband signals directed towards the chest. The product initially was designed for COPD, a condition that took her grandmother's life. The device monitors patients at home, facilitating early intervention during respiratory decline and crises. Patients will receive timely treatment, avoiding expenses, hospitalizations, even death from complications during ICU admissions. She built her company over four years by raising $3.2M from NSF, NIH, physicians in her network and a VC fund in Latam. Her employees are 90% Latinx and 30% female.
Dr. Artunduaga was named Silicon Valley Entrepreneur of the Year, made the Silicon Valley Business Journal's 40-under-40 and the Business Journal's 100 U.S. Rising Stars lists. Featured in Forbes, TechCrunch and Bloomberg, her company was the inaugural winner of the Bay Area Inno Madness competition. Before launching Samay, Dr. Artunduaga was a successful physician-scientist training in plastic surgery. She published in peer-reviewed journals such as The New England Journal of Medicine, Nature, PNAS, Genetics in Medicine. After finishing medical school in Colombia, she relocated to the U.S., where she received over 20 awards and attended Harvard University, UChicago, UWashington, UCBerkeley and UCSF for postgraduate training.
When you began your career many years ago, did you ever imagine that you would have the leadership role you have today?
Dr. Romero

Coming from a clinical environment, transitioning into industry was a huge step and completely outside of my comfort zone. Initially, I would not have imagined embracing leadership and high visibility positions. However, I was also very driven to be successful and achieve what no one in my family had been able to do. Despite being in a corporate environment that did not foster growth opportunities for women or minorities, I was determined to attain the degrees and experience that would ultimately position me in the trajectory for career advancement.

Dr. Artunduaga

Not at all! I dreamed of becoming a residency program director, or maybe the chief of a hospital section. I knew that women like me face greater obstacles climbing their career ladders, and most of the time success wouldn't depend on my abilities but on gender/racial politics. However when I relocated to California, I saw that a woman like me could build a company, that I could forge my own path, and that I could become my own boss without having to jump through a thousand extra hoops. When I decided to found Samay, my husband was all in for it. He supported me for a few years, until we got our first SBIR grant.
As a Hispanic/Latina how did you navigate power structures EARLY in your career versus LATER in your career when you had a more formal leadership role and position of power?
Dr. Romero

Earlier in my career I would have been much more apprehensive to show assertiveness, stand up for myself, and navigate the hierarchy of an organization. I'll never forget my first corporate manager telling me I was "stepping on her toes" because I had shown initiative in solving a problem that gave me visibility with leadership!

Companies that foster a culture of adherence to hierarchy fail to instill trust among their employees, and therefore do not get the best of what their employees bring to the table. I am encouraged by my leadership to reach out to anyone in the organization, to identify mentors to further advance my career goals, and I fully encourage my team to do the same. The success of the team reflects a good leader.
Dr. Artunduaga
I'm a survivor of discrimination from my past academic life as a plastic surgery resident. At the time, I didn't know how to navigate the systemic racism that unfairly elevates people from the majority culture over Blacks or Latinos. I failed in my fight against it, and decided to leave everything behind. I carved my own path by founding a company and building it following my heart. I'm 200% committed to becoming the boss I never had.
How can we in the business world make it easier for women and especially Hispanic and Latinx women to become leaders when they have to balance so many parts of their lives?
Dr. Romero

Culturally, many Hispanic and Latinx women feel the stress of balancing work and family life while also having career aspirations. Being associated with the role of caretaker has long been a barrier for women to achieve leadership roles in the United States; yet other countries ensure women have the right to take one year or more of maternity leave while protecting their jobs. Women bring a huge pool of incredible talent to the workplace and if companies want to have access to the best talent and instill a culture of diversity and inclusion, they need to embrace and implement change. Whether it's flexible work schedules and locations and/or meeting free days, we need to provide an environment that enables women to handle all the important facets of our lives.

Dr. Artunduaga
According to a recent report from McKinsey & Company "Women leaders are switching jobs at the highest rates we've ever seen—and at higher rates than men in leadership." In addition, women are "more likely to experience belittling microaggressions, such as having their judgment questioned or being mistaken for someone more junior. They're doing more to support employee well-being and foster inclusion, but this critical work is spreading them thin and going mostly unrewarded."
If we don't offer women the flexibility to fulfill their motherhood roles, climb the ladder as quickly as their male counterparts, and implement a true culture of diversity, equity, and inclusion, we will keep failing them. For instance, I have personally experienced the effects of harmful stereotyping in the workplace and research shows that women and minorities consistently face such stereotypes while also getting less support form their managers. We must directly confront and change this prevalent behavior to get women the recognition and leadership roles they deserve.
What advice would you give to the next generation of female leaders? How can women support other women within their organizations?
Dr. Romero

My advice to younger women is to feel confident – you can achieve whatever you set your mind to do. Surround yourself with an environment that is positive and encourages growth. Don't be afraid to change your environment if you feel there is a lack of support for your career goals. Trust me, the next opportunity will be better than what you left behind! Believe in yourself and your abilities to do more than you think you can. And pay it forward by genuinely encouraging other women to do the same! Create the culture you want to live!
Dr. Artunduaga
Choosing the right employer is key. When companies have a solid representation of employees from traditionally underrepresented groups, that says a lot about their policies. I'd ask questions around equal access to mentorship and sponsorship programs and how one gets promoted. According to the same McKinsey & Company report discussed above, less than half of managers are consistent at helping people advance their careers because it takes time and effort to fight systemic biases. If managers and leadership get rewarded for the number of underrepresented minorities they effectively help, the scale could be balanced.