Mammoth Biosciences
07/27/2022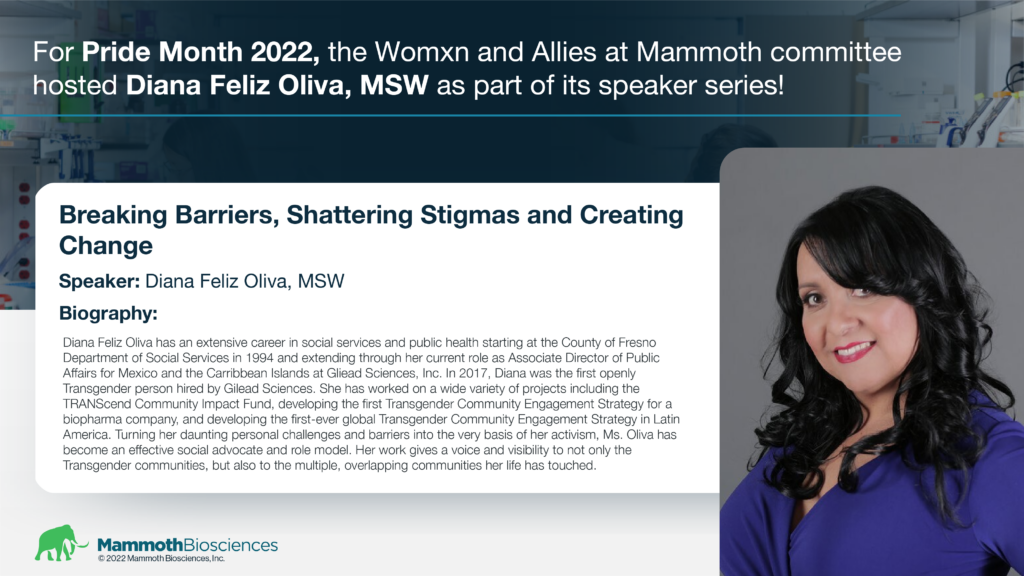 Diana Feliz Oliva, MSW recently spoke to the Mammoth team about breaking barriers, shattering stigmas, and creating change in her extensive career as an openly trans woman working in social services, public health, and biotech.

Diana's career in social services started at the County of Fresno Department of Social Services in 1994 and extends all the way through her current role as Associate Director of Public Affairs for Mexico and the Caribbean Islands at Gliead Sciences, Inc. In 2017, Diana was the first openly Transgender person hired by Gilead Sciences. She has worked on a wide variety of projects including the TRANScend Community Impact Fund, the first Transgender Community Engagement Strategy for a biopharma company, and the first-ever global Transgender Community Engagement Strategy in Latin America. Turning her daunting personal challenges and barriers into the very basis of her activism, Ms. Oliva has become an effective social advocate and role model. Her work gives a voice and visibility to not only the Transgender community, but also to the multiple, overlapping communities her life has touched.

We live tweeted Diana's talk here and you can check out our interview with Diana below to learn about her career path, get her advice on raising LGBTQ+ voices in the biosciences, and discover how you can be your most authentic self at work.
What have been the key factors influencing shifts in your career trajectory over the years and what passion or passions have motivated you throughout your career?
Some of the key factors that have influenced shifts in my career trajectory have been socio-economic, skills/abilities, and professional/leadership development. Some of the passions that have motivated me throughout my career have been my core values, evolving as a professional, being innovative, learning new things and most of all being bold with my career choices…doubling down on me and being fearless.
How has being trans and striving to be your most authentic self influenced your career path?
At the beginning of my career trajectory, it was difficult being my authentic self. I felt I needed to hide my gender identity and expression because I was afraid of harassment and retaliation at the workplace. Once I moved to LA and began my career in HIV advocacy, I was able to finally fully transition and be my authentic self. Since 2001, I've been able to take more calculated risks, be a strategic thinker, and work for organizations where their values and culture aligned with mine.
What were some of your barriers and challenges transitioning at work? (Pre/Post)
Pre-transition barriers and challenges I faced when I began my transition back in 2001 were my legal name change documents, educating my colleagues, office systems/culture, and lack of inclusive policies, and procedures. Some of the post-transition barriers and challenges I have encountered have been educating colleagues, changing the internal culture of the organization, and helping develop HR policies and procedures. I also regularly experience microaggressions and am singled-out as the "trans" person with everything related to trans issues.
What are some key things people can do to elevate trans people within the biotech community?
I believe in order for people to elevate trans folks in the biotech industry, they need to educate themselves and become better allies. Cis-hetero-normative people have the power and privilege and so they have the ability to recruit, hire, and promote transgender talent, develop transgender inclusive company policies and procedures, create employee resource groups, and develop leadership/mentorship programs.
How can allies better support members of the LGBTQ+ community at work?
Becoming a better ally is simple. You must:
Acknowledge your power and privilege
Listen to the LGBTQ+ communities
Learn and unlearn…(binary systems/biases/pronouns/etc.)
Initiate tough conversations and spaces
Educate those around you
Support by getting involved…(volunteer/donate/etc.)

PFLAG and GLAAD have many resources for those looking to learn more about transgender issues and become better allies. Your local LGBTQ community center can also direct you to many many resources – the San Francisco LGBT Center is a great example. We've also put together the glossary below to help you get used to using some terminology that is important to the trans community: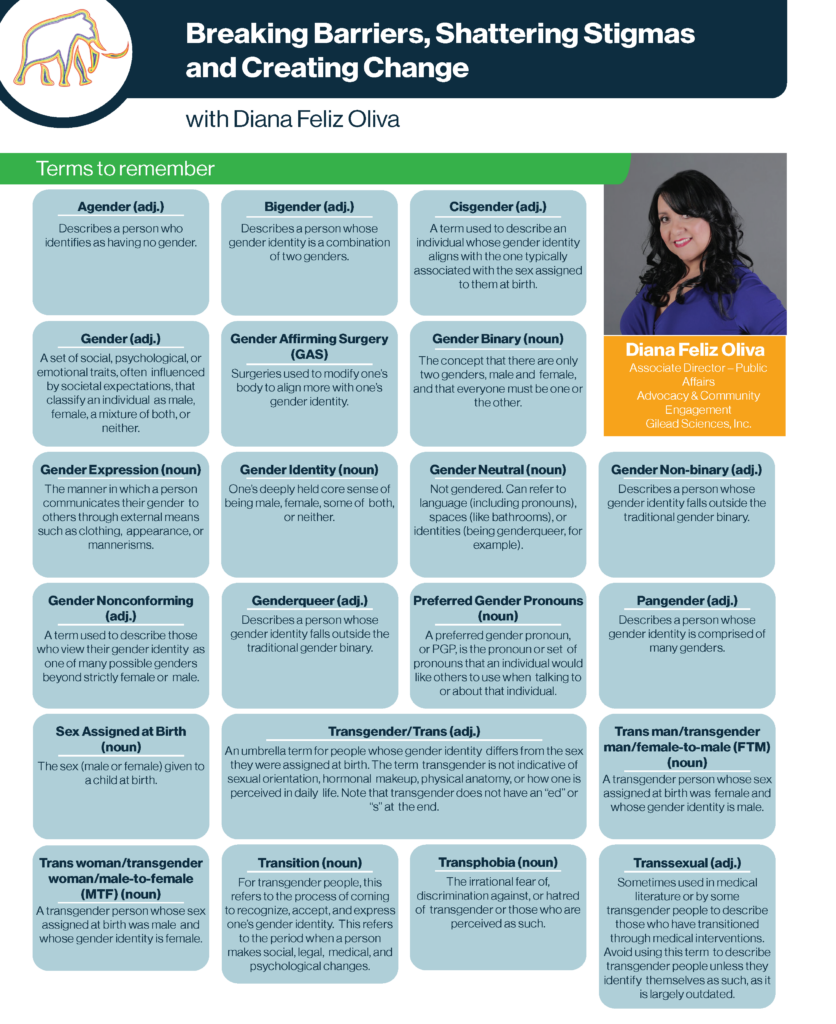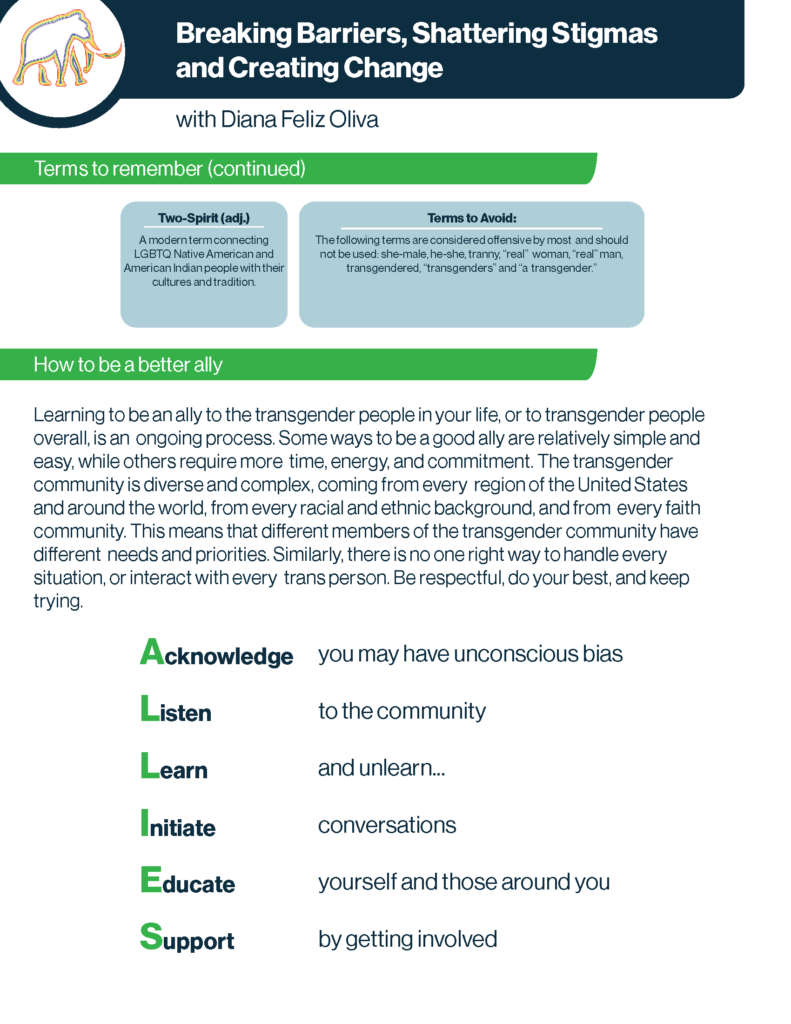 What resources can you recommend for people in the LGBTQ+ community who are just coming out and those who wish to support them?
Some of the resources LGBTQ+ community members can utilize when coming out or transitioning are their company's employee resource groups and employee assistance programs, as well as external resources that are available in-person or online such as support groups, books, blogs, webinars, research studies, etc. Additional resources are listed below.

LGBTQIA+ Resources
National:
Local:
Misc. Resources:
For some non-binary youth resource, I highly recommend the works of Sophie Labelle.

She has written some great novels about a NB youth's coming of age experience:
How have you navigated your love for the sciences with activism and what key things do you recommend others do to achieve the same?
When I came to Gilead Sciences, Inc., I brought with me 23 years of social services and public health activism that I have incorporated in my role as Associate Director of Community Engagement & Advocacy – Public Affairs. I use a social justice framework to address the social determinants of health as it relates to HIV. I believe people in the biosciences industry can use their career history, lived experiences and their passion for activism to achieve their ultimate dream job. One strategy I recommend is to identify challenges/barriers that keep you from doing your best work and then market/brand your authentic self and your abilities as the solution that will help you show up for patients and collaborators.
Pride month is a celebration of diversity and equality for the LGBTQ+ community. What can we do to ensure we amplify the voices of people of color in this community?
We can amplify BIPOC (Black, Indigenous, People of Color) voices during Pride month in the following ways:
Financially support BIPOC-led LGBTQ+ organizations – put your money where your mouth is (not companies who profit off performative allyship)
Actively reject heteronormativity- unlearning heteronormativity standards (use gender-neutral language, pronouns, etc.)
Be responsible for educating yourself on BIPOC LGBTQ+ issues, then further the discourse (it's not your LGBTQ+ friends' responsibility to continuously educate you)
What key things do you hope to accomplish in your new role as Associate Director of Community Affairs for Mexico and Latin America at Gilead?
What I hope to accomplish in my new role in Mexico, Caribbean Islands, Central America and South America is to develop innovative community engagement strategies and patient advocacy initiatives that addresses the unmet medical needs of our patients. In addition, I will enhance Gilead's connection with advocacy organizations in the market and drive strategy behind corporate giving initiatives. With the commitment and drive I will bring to Mexico and Latin America, I will be part of a team that is changing the world and helping millions of people live healthier, more fulfilling lives.