Tyler Ford
04/22/2020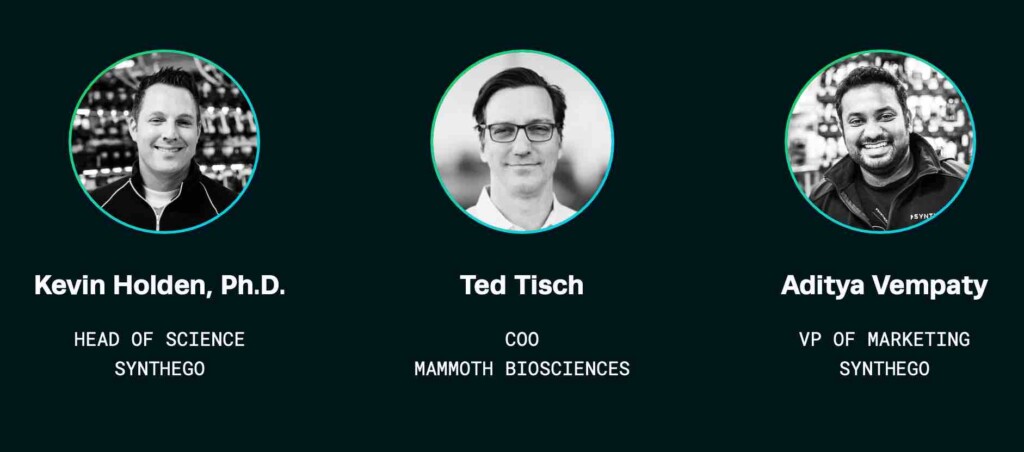 Synthego, a provider of many great CRISPR-based products and resources, recently started a "CRISPR Office Hours" series. Every Thursday, Synthego hosts genome engineers, scientists, or life science professionals to discuss the impact of the COVID-19 on the community. The goal of this series is "to help the genome engineering community navigate these unique and challenging times."
Last Thursday, Mammoth COO Ted Tisch joined Synthego Head of Science, Kevin Holden, and Head of Marketing, Aditya Vempaty, to discuss how biotech companies can keep calm and carry on during the COVID-19 crisis. You can check out the full discussion with Ted in the video here, and we summarize some of Ted's key points below.
Ted has worked at biotech companies big and small. Prior to his current role at Mammoth, he was COO at Synthego, where he helped grow the company from 18 to 250 employees. Needless to say, he's helped biotech companies navigate many struggles. During this unprecedented crisis, Ted offers many good pieces of advice:
Always keep safety and social distancing in mind
In discussions with a variety of biotech leaders, Ted is happy to point out that they're all currently focused on safety. Mammoth is too. While it's impossible for experiments to move forward without researchers in labs, Mammoth has made many efforts to make sure lab spaces have room to maintain social distance. This has involved:
Drastically decreasing lab occupancy
Cleaning as much as possible
Making sure personnel who can work from home are working from home
Reorganizing bench spaces and equipment
Requiring more thorough planning (scheduling in 0.5h chunks!) so people don't end up with unproductive downtime waiting for equipment
Allowing people to stay home, no questions asked
Communication is key
While programs like Slack and Zoom make it much easier to communicate while working from home, it can be difficult to have impromptu discussions. These are a key component of working in a lab; researchers often have spur of the moment ideas to bounce off one another. To make team members more comfortable with regular communication from home, Mammoth requires all phone conversations to include video. The Mammoth team also proactively creates space for virtual social events including:
Zoom virtual break-rooms
Random pairings and coffee hangouts through the Slack "Donut" app
Virtual stretching time
Virtual beer hours
A virtual company retreat
All of these efforts are designed to maintain a sense of community and open communication, even if the team is still socially distant.
Allow plans and tasks to evolve
As noted above, Mammoth allows even its lab team members to work from home, no questions asked. However, there's still plenty of work to be done. Now is a great time for researchers to catch up on things like reading, analyzing data, planning their next experiments, and writing up papers.
To that last point, Mammoth and UCSF collaborator Professor Charles Chiu recently published their work creating a CRISPR-based SARS-CoV-2 DETECTR. In this work, we developed a CRISPR diagnostic test that detects SARS-CoV-2 RNA extracted from real patient samples! This required team members to switch priorities quickly and take on tasks like:
Designing a CRISPR diagnostic assay based off of the early release of the SARS-CoV-2 genome
Testing the assay with contrived samples
Drafting and publishing a white paper to help spread the word about our SARS-CoV-2 DETECTR
Ramping up a collaboration with Professor Charles Chiu at UCSF who had access to patient samples (aided by updated policies from the FDA)
Validating the assay on patient samples
Writing and rapidly submitting the paper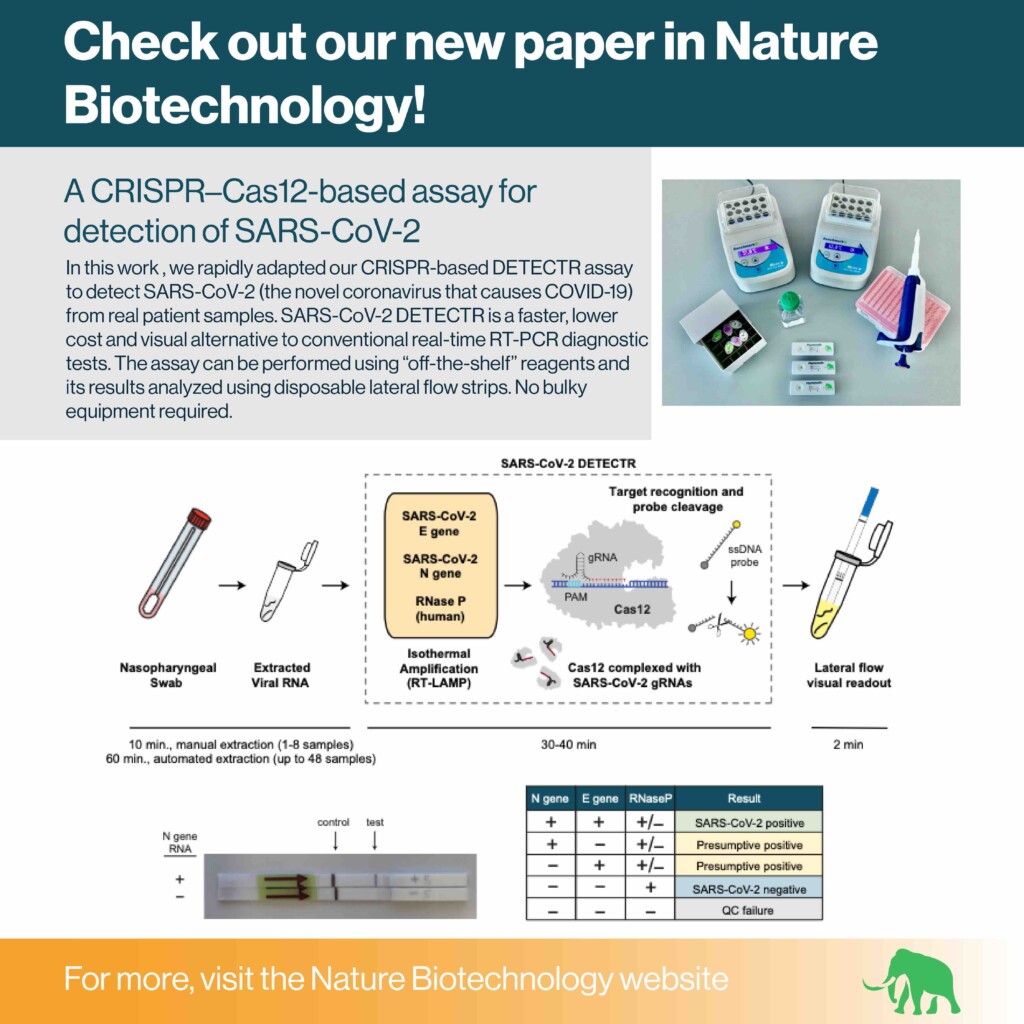 Of course, the Mammoth team is composed of highly motivated and adaptable individuals who were up to the task, and, thankfully, many of these tasks could be completed from home. The result – a fantastic paper in Nature Biotechnology that could help fight the pandemic!
As the pandemic progresses, our plans will need to evolve further. Ted points out that, as restrictions become relaxed and lab work ramps up again, it will be important to keep an eye out for shortages in things we'd normally consider mundane. It may take some time for supply chains to re-adjust and, who knows, maybe we'll see shortages in simple things such as pipette tips. We can take some time now to prepare for these contingencies.
Finally, Ted also offered some advice for people who plan on entering the biotech workforce soon. He points out that, while many companies might be pulling back on hiring, it's a good time to volunteer for initiatives aimed at fighting the pandemic. Volunteer work will introduce you to people in your field of interest, and it is these people who will help you get jobs in the future.
More from Synthego and Mammoth
For more insights from Ted, Mammoth, and other leaders in Biotech, be sure to check out Synthego's CRISPR Office Hours. And, for another fascinating Synthego-Mammoth discussion, be sure to check out Mammoth CEO, Trevor Martin's, interview on Synthego's CRISPR Cuts podcast.
If you'd like to work with Mammoth in the future, check out our open positions, or contact us via our partner page.
Learn about our CRISPR-based SARS-CoV-2 detection platform for commercial labs!