Mammoth Biosciences
11/18/2021
At Mammoth, we recognize that systemic racism and historical injustices have led to a lack of diversity in the sciences. One of our goals is to combat this injustice by making diversity, equity, and inclusion an integral part of our culture. To do so, our Justice, Equity, Diversity and Inclusion (JEDI) committee undertakes projects aimed at increasing the visibility of scientists from underrepresented backgrounds.
When we recently moved into our new space in Brisbane, CA, we were faced with a large number of blank walls. Rather than fill these with corporate artwork, we saw this as an opportunity. Led by Mammoth Manager of Employee and Workplace Experience, Molly Jorgensen, we commissioned local artists to create portraits of historical and contemporary scientists from underrepresented backgrounds. Our conference rooms are now filled with these portraits!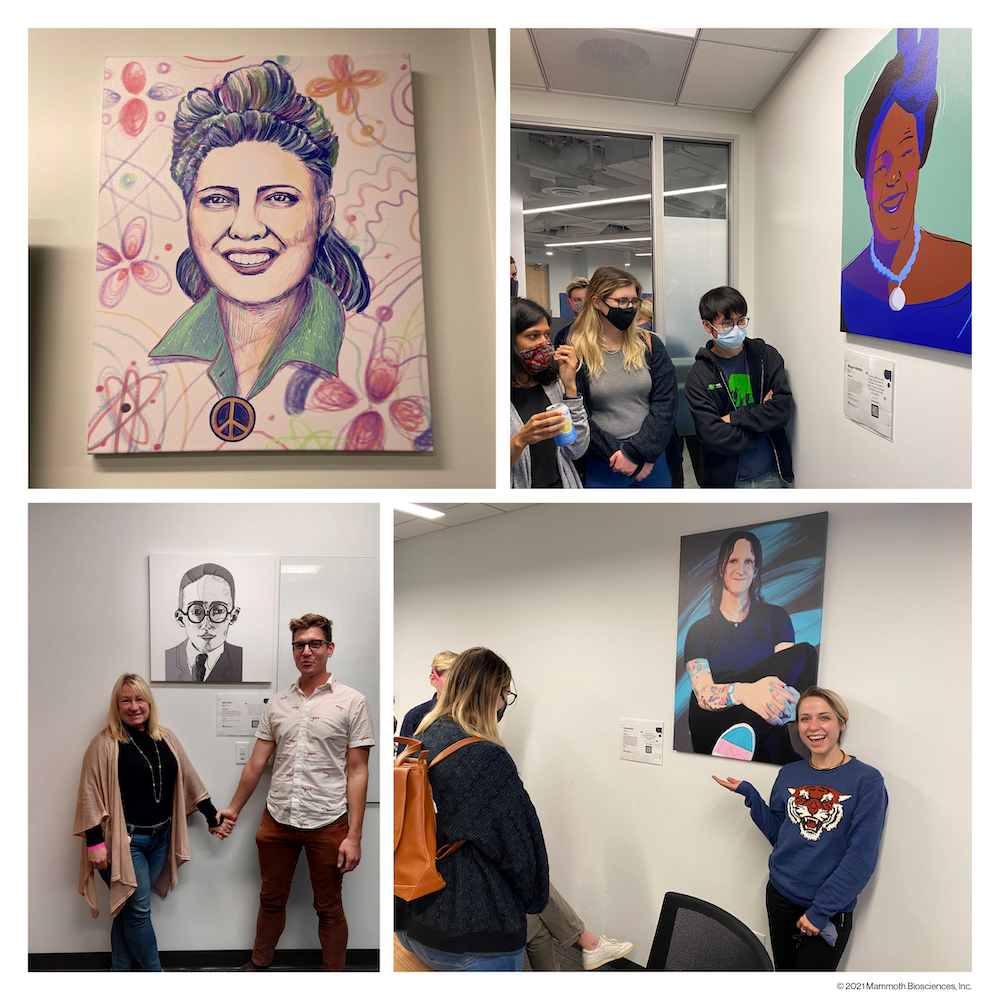 All the portraits are paired with short descriptions of the depicted scientists. They also include QR codes linking to resources where Mammoth team members and their visitors can learn more about the scientists.
You can find one representative portrait from each artist here. To see them all, you'll have to stop by Mammoth some time!
A small sample of the portraits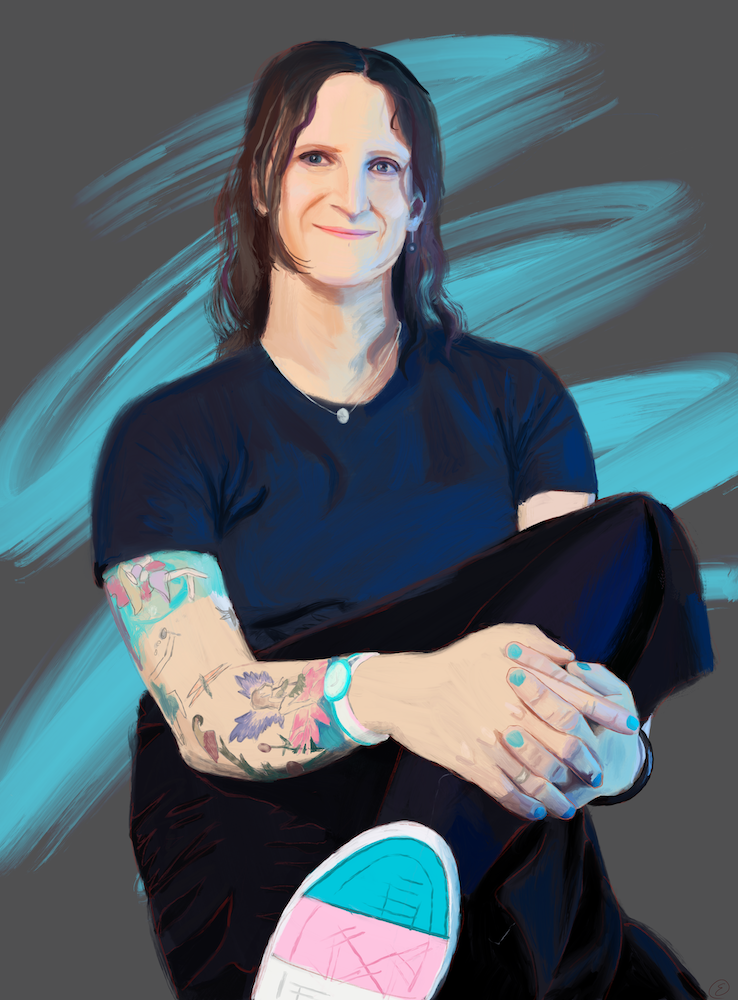 Clara Barker
Artist: Ella Hawkins
Year: 2021
Medium: Digital print on canvas
Biography:
Dr. Clara Barker is a thin film Material Scientist who manages the Centre for Applied Superconductivity at Oxford. Clara is the chair of the LGBT+ advisory group at Oxford University, Dean for equality and diversity at Linacre College and in 2018 she won the first diversity role model award from the University. She is also a member of the both the Royal Society and the Girls School Association E&D committees. In her spare time, she runs a youth group for LGBTI+ people, with a support group for their parents. She is the recipient of the Points of Light Award from the UK Prime Minister in 2018, has written for various publications, delivered many talks on LGBTI+ issues and diversity in academia, including a TEDx talk in 2018, (https://youtu.be/cReiIVsgNGs) and was highlighted in Nature in early 2021 (https://www.nature.com/articles/d41586-021-00024-z).

"I am a proud pansexual transwoman and I am a Material Scientist"
–Clara Barker, 500 Queer Scientists Profile
Source(s):
Learn more:
https://www.nature.com/articles/d41586-021-00024-z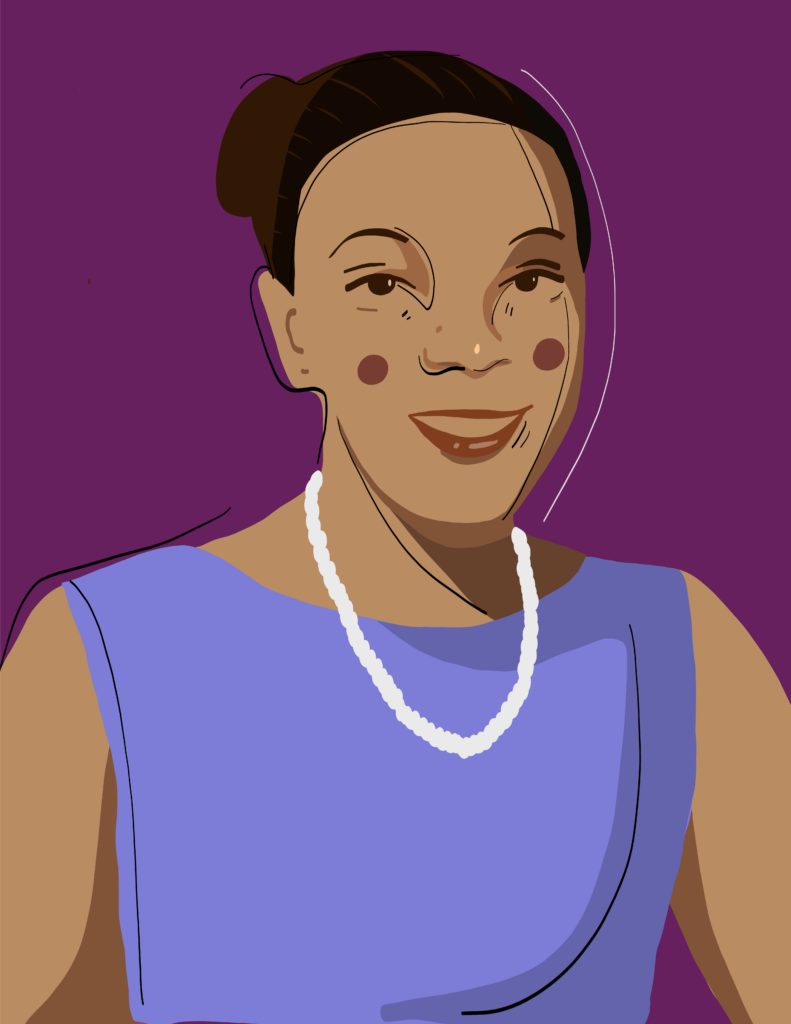 Mamie Phipps Clark
Artist: Tera Johnson
Year: 2021
Medium: Digital print on canvas

Biography:
Mamie Phipps Clark was the first Black woman to earn her Ph.D. in experimental psychology from Columbia University in 1943. Clark was born and raised in Hot Springs, Arkansas and earned her bachelor's and master's degrees at Howard University. As a social psychologist, she focused on the development of self-consciousness in black preschool children. She and her husband, Kenneth Clark, testified as expert witnesses in important school desegregation cases during the Civil Rights movement including Brown vs. Board of Education.

"I think, as we found the children really didn't want to be black or even brown, then you began to wonder about the whole field of education, and what did it mean that all these children were in one place? You know, what kind of situation is this, that they're isolated from whites, and they can never learn that they're just as good as whites, they're just as bright as whites. They'll always think they're inferior. They'll always think that whites are superior to them."
–Mamie Phipps Clark, Columbia University Libraries Oral History Research Office, Notable New Yorkers
Source(s):
Learn more:
https://www.apa.org/pi/oema/resources/ethnicity-health/psychologists/clark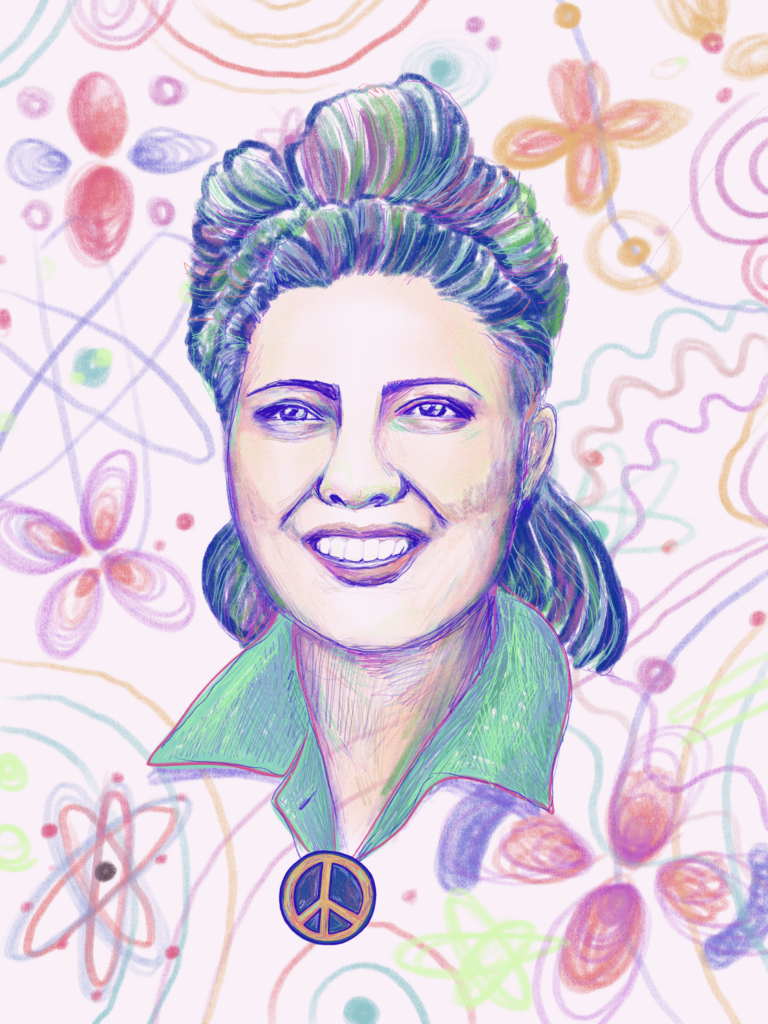 Sameera Moussa
Artist: Christine Liu
Year: 2021
Medium: Digital print on canvas
Biography:
Sameera Moussa was the first female Egyptian nuclear physicist. She earned a doctorate in atomic radiation from Cairo University and later became the first woman to teach there. She hoped her work would one day lead to affordable medical treatments and the peaceful use of atomic energy. Toward this goal, she organized the Atomic Energy for Peace Conference.

"I'll make nuclear treatment as available and as cheap as Aspirin."
–Sameera Moussa, Source Unknown
Source(s):
Learn more:
https://physicstoday.scitation.org/do/10.1063/pt.5.031428/full/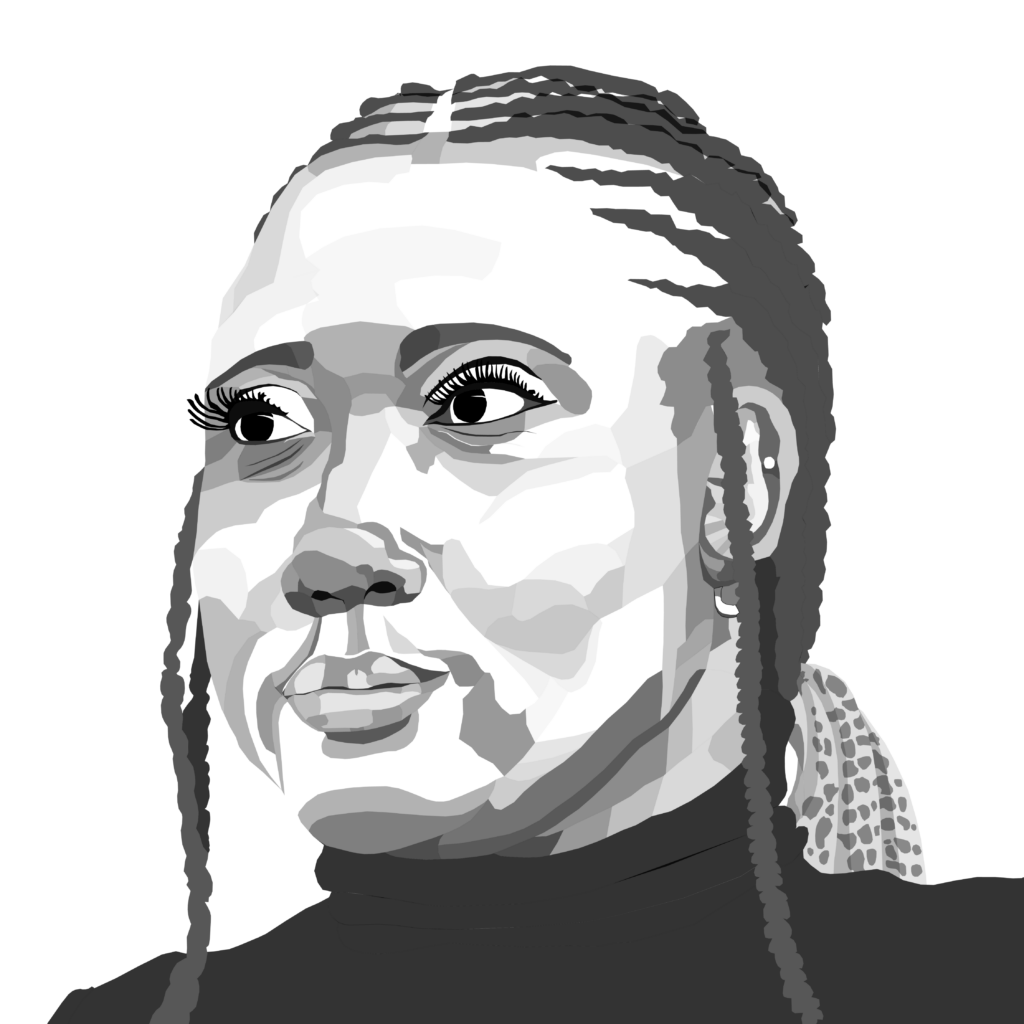 Chelsea Connor
Artist: Tyler J. Ford
Year: 2021
Medium: Digital print on canvas
Biography:
Chelsea Connor is a herpetologist and PhD student from the Commonwealth of Dominica in the Caribbean. She is currently studying the diet overlap between the native and invasive species of anole on her home island. Chelsea loves anoles and, as a science communicator, spends time putting together and sharing information on different anoles with her hashtag #DidYouAnole? on Twitter.

"My long-term goals are to help preserve my country's culture and history with wildlife; continue to advocate for other scientists from marginalized communities with unique points of view and knowledge; and nurture relationships between communities and formally trained scientists."
–Chelsea Connor, California Academy of Sciences "New Science" profile
Source(s):
Learn more:
https://chelseaconnor.carrd.co/