Mammoth Biosciences
09/21/2021
At Mammoth, we believe that diversity, equity, and inclusion are essential parts of advancing the well-being of people all over the world. It's therefore incredibly important that biotech companies like us raise awareness and take action when individuals from vulnerable and underrepresented groups are experiencing a humanitarian crisis. After decades of war and suffering, the people of Afghanistan are facing economic collapse. Through our support of Afghan refugees, we hope to improve the lives of women and children fleeing from the crisis in Afghanistan and thereby promote the health and well being of this important community.
Taking concrete action – donations to support Afghan refugees
Mammoth is taking action by raising awareness on this issue and coordinating donations of over $4,500 to the City of Fremont Afghan Refugee Help fund. The city of Fremont, our neighbors and the fourth largest city in the San Francisco Bay Area, is home to a large Afghan community and this donation will support Afghan refugees entering the community. This money will go towards "housing, food, clothing, and other items or services to assist refugees expected to arrive in our area," (City of Fremont Afghan Refugee Help website).
Ways you can support Afghan refugees
We hope that others in the biotech industry and beyond can get involved and will support Afghan refugees in any way they can. For a brief overview of the situation in Afghanistan and general information on how you can help Afghan refugees, see this article in the Washington Post:

Women and young girls face particular dangers during this crisis. Some resources you can use to help women and girls in Afghanistan include:

Coordinating donations at your organization
If you'd like to get people at your organization to donate to these or similar causes but aren't sure where to start, here's an overview of our fundraising initiative at Mammoth:

1. Our Womxn and Allies at Mammoth committee organized a meeting where we discussed the situation in Afghanistan and brainstormed ways we could help.

2. Two members of the committee volunteered to be point people for coordinating donations. This ensured that the project moved forward and wasn't lost amongst the flurry of ideas.

3. The point people chose a single organization to donate to. We went with the City of Fremont to keep things local, but there are many ways to help.

4. As it might be logistically challenging to have an organization donate funds, we created an anonymous poll visible to the members of our organization where individuals pledge to donate various sums of money. We did this through Slack and the Polly app: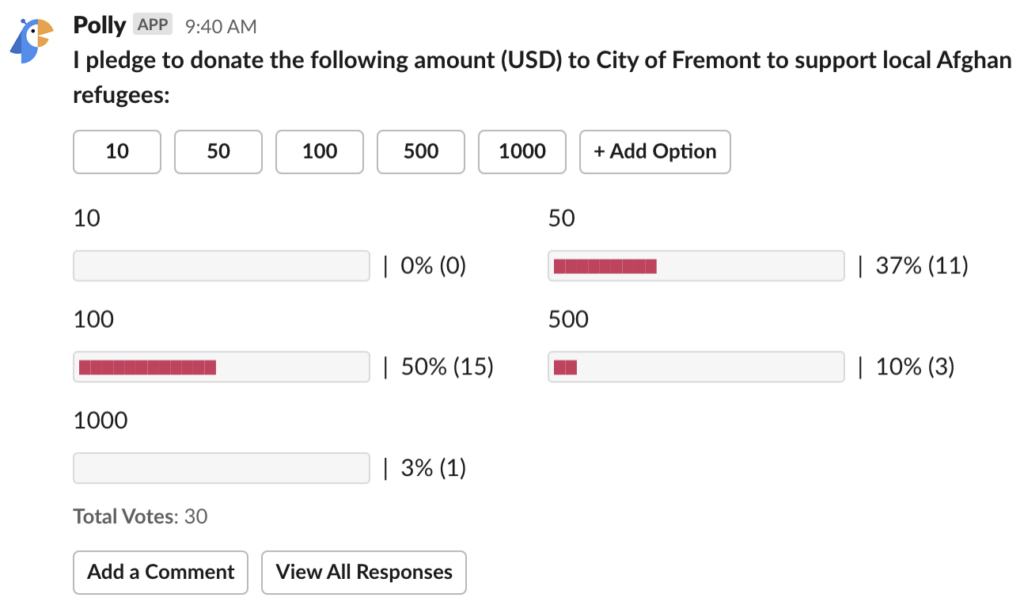 We kept responses anonymous but framed the poll with a target goal for total donations, provided a range of donation options, and ensured we could see how many people donated. This makes it easy to tally up the donations and makes positive use of a little bit of peer pressure. With the poll in slack, it was also easy to send people periodic reminders about donating. In about 48 hours, we reached 30 pledges for a total of $4,550!

5. Along with the poll, we sent everyone a draft of this post so they'd have a good understanding of where the donations were going and saw that we were serious about this effort. Having this blog post helped us conceptualize the project a bit and, of course, made it easy to share.

As you can see, getting people to donate doesn't have to be a huge project. Plus, there are simple tools that you can use to make things easier. We hope you can use similar tools at your organization and support future charitable contributions from biotech.
Future support for vulnerable and underrepresented communities
While the dire situation in Afghanistan rightly takes much of our current attention, at Mammoth, there is a continued effort to provide support to vulnerable and underrepresented communities. Through our WAM (Womxn and Allies at Mammoth) and JEDI (Justice, Equity, Diversity, and Inclusion) committees, we regularly seek opportunities to provide monetary, mentorship, and volunteer support to important causes. In particular, the WAM committee aims to lead efforts to empower Womxn and Allies and elevate them to their full potential at Mammoth and beyond. We hope to make the biotech world a more diverse, welcoming, and prosperous place through our efforts.