Tyler Ford
07/01/2020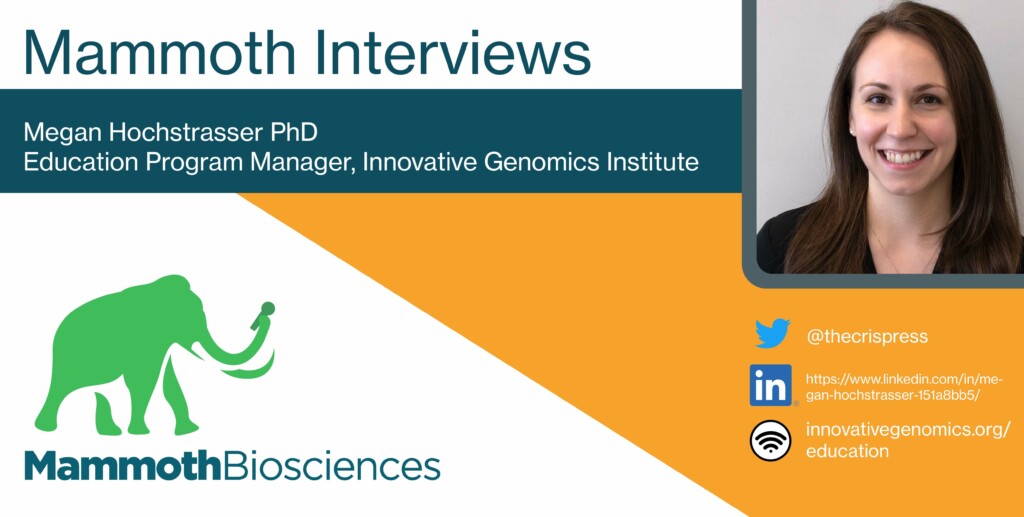 We regularly invite scientists to present their work to the Mammoth team. This facilitates collaborations and expands our knowledge of important topics including CRISPR, genome editing, diagnostics, and more. Rather than keep what we learn to ourselves, we've decided to share it with you through our Mammoth interviews series. This series features short Q&As with the many interesting scientists who speak at Mammoth. Get ready for some fascinating science and even more fascinating people!
In this post, we interview Megan Hochstrasser PhD, Education Program Manager at the Innovative Genomics Institute. Megan uses a wide range of science communication skills and a ton of creativity to educate many audiences on the basics of CRISPR, its applications, and its incredible potential.
How did you get into your current communication role at the IGI?
I did my PhD research in Jennifer Doudna's lab at UC Berkeley. As I was contemplating my post-graduation career options, I started to look beyond the lab bench. I didn't think I wanted to do research forever and I never really wanted to become a PI. However, I'd always really enjoyed writing papers, making figures, crafting presentations, and giving feedback on manuscripts. I also thought back to how I'd gotten interested in science to begin with, and remembered playing science-themed video games and watching shows like The Magic School Bus and CSI. With this in mind, I began to explore careers in science education, technical writing, and editing.
Around this time, the IGI was just beginning to grow up. They'd received a major donation that would let the "Innovative Genomics Initiative," which, at that time, had a single staff member, re-launch as a full-fledged institute. Jennifer knew about my interests and strengths, and told me that they'd been trying to find a communications person to help create material for their upcoming website. She encouraged me to apply. I did, and I started working the summer after I graduated from Berkeley. Right place, right time—I'm very fortunate.
Did you always know that you wanted to go into communication and what sparked your interest?
I slowly found my way into science communication partially because I didn't initially realize it was a possible career path. In hindsight, it makes total sense that I ended up here. My dad is a molecular biologist and my mom has been a teacher and artist for many years. I've always loved science, and also being creative through writing, design, etc. I'm also pretty "type A" and attentive to detail, so I want everything I make to be accurate and look polished. If you asked me what I wanted to be at various points in my adolescence, I would have said graphic designer, Spanish teacher, forensic scientist, or psychologist.
Science communication lets me put all of these interests and inclinations to good use. I heavily rely upon my scientific and critical thinking background to take in large amounts of complex information while using my creative, design-oriented side to present that information simply and clearly. I actually find science communication more challenging than research because it's a lot more open-ended and requires you to use so many different skills in concert.
And I'll note that even once I landed on "science communication" as a general career, I still had a lot of specialties to explore within that very broad category. I've tried my hand at a variety of things at the IGI. These include:
Graphic design
Web design
Writing
Marketing
Public relations
Media relations
Event planning
Teaching
Lecturing
Curriculum development
Leading hands-on activities
much more!
I like to bring these up to make young scientists aware of the true diversity of their career options, even just within science communication. I've learned that I really prefer the public engagement side of science communication to the PR/marketing angle. Luckily, Jennifer and the IGI have supported me in switching my job to focus exclusively on education and outreach.
What do you see as the major issue in communication surrounding CRISPR? How can this issue be solved?
I think there are multiple communication issues surrounding CRISPR but, in general things have been going well so far. Among people who follow science, there is really deep knowledge of genome editing, and I don't often hear hugely inaccurate takes from friends, people at outreach events, rideshare drivers, et al. Nonetheless, two of the problems I do see are:
1. Inaccurate reporting with misleading headlines
2. A huge segment of people have still never heard about CRISPR
For the former problem, I think we can provide as much accurate information as possible to help inform journalists. They usually intend to get the facts right. For those looking to manipulate, there isn't much you can do to prevent misinformation, but you can address it after the fact. Small stories are probably best ignored, but for those getting attention, I'd like to see the IGI and other scientists quickly debunking inaccuracies to help set the record straight. This can be on social media, blog posts, or other channels.
To reach more people, I think we need to keep moving forward with classical modes of communication while also coming up with new ideas. Every time a news program covers CRISPR, every time we have a big outreach event, and every time a new article comes out, a whole new batch of people learn something about genome editing. You're never going to reach everyone through a single form of communication, and people consume all different types of media. As a result, we need to experiment with new and creative ways to tell stories about CRISPR.
For my part, I spend a lot of time trying to reach students and their teachers. When people are still in school, they are open to receiving information about all kinds of topics. I think giving students a chance to learn about genome editing and discuss its applications is a great opportunity to both empower future decision-makers and inform people who might avoid similar topics later in life.
What's your current favorite communication project at the IGI?
We have some big projects in the pipeline, but I think my favorite that we've released so far is our CRISPR + sickle cell virtual reality experience. We worked with the Lawrence Hall of Science and a company called Dynamoid to create an immersive simulation of sickle cell. In this experience, you dive into the body and see how sickle cell manifests at the levels of tissues, cells, and DNA. In the simulation, you can even see what would happen if you treated sickle cell with a possible CRISPR-based therapy being developed at the IGI.
When you explain something out loud or with 2D images, it's almost impossible to convey any sense of scale or connectivity between systems. Being totally immersed in VR grounds the user and lets them "zoom in" or "zoom out" whenever they want to see a different level of detail. It gives them control and the ability to explore. This makes for a unique learning experience that I hope sticks with them.
I've brought the experience to quite a few outreach events now and I love that I can use the same resource to reach people at any level. For example, on Discovery Day at the Bay Area Science Festival, I strapped the VR headset onto a three-year-old boy and a 75-year-old woman. They both took something meaningful away from the experience. The little kid couldn't believe that the blood cells he was seeing were "inside him" and the older woman was fascinated that a disease she'd heard about for years could potentially be treated this way.
We've also been piloting the experience in a different format—projected onto a planetarium dome at the Lawrence Hall of Science. I sat in the crowd to watch a few practice runs. It was gratifying to hear the oohs and aahs, and watch little kids raise their hands to ask excited questions about biology. Though we're now on hold due to COVID-19, I hope that we'll reach a lot of people that way when things reopen.
Overall, I'm delighted to help raise awareness of sickle cell disease and really excited that the IGI chose to prioritize the sickle cell community in its work. We're planning a community engagement program with sickle cell patients, their families, and caregivers. It would be such an honor to work directly with the sickle community to make sure our educational materials are effective in both communicating key messages and faithfully capturing the experience of living with sickle cell.
What advice do you have for anyone who wants to go into a similar communication role?
Try as many forms of science communication as you can, no matter what career stage you're in:


Start a blog to build up writing samples.
Write for your school/local newspaper.
Volunteer for STEM outreach programs (they're looking for you!).
Join Twitter and start threads where you translate cool papers into lay language.
Offer to design graphical abstracts and cover art submissions for your lab mates' papers.
Code a simple science game or web interactive.
Start a podcast.
Design a simple website to represent yourself and organize samples of your work.
It's fine not to excel in these efforts in the beginning. You just want to develop your skills, learn what you find fulfilling, and build a portfolio.
Find people in your network and talk to them about what they do and how they got to where they are, even if you don't really know them. I reply to everyone who reaches out to learn about this career path, and all the other science communicators I know do the same. "Networking" sounds gross, but I think of it as a way to learn about other people/organizations and see what's going on in the fields that interest you. It doesn't have to be awkward, people love talking about themselves. 😉


Know that no two science communication roles are exactly the same—this is an umbrella term for a whole web of different careers. It's not so common to see job listings with "Science Communication" in the title. You may have to look for these roles under different names. Many science communicators I know have first found their way into a more traditional role and then shaped it into what they wanted it to be, and some have even pitched a role for themselves from scratch. Leaders at many organizations don't realize how much a talented science communicator can help them until they see the results. A lot of science communication is done by freelancers too. You'll probably want to learn the ropes of your specialty during grad school or in an initial job before starting to freelance, but you can find a lot of work this way if you hustle and build a strong network.