Tyler Ford
05/27/2020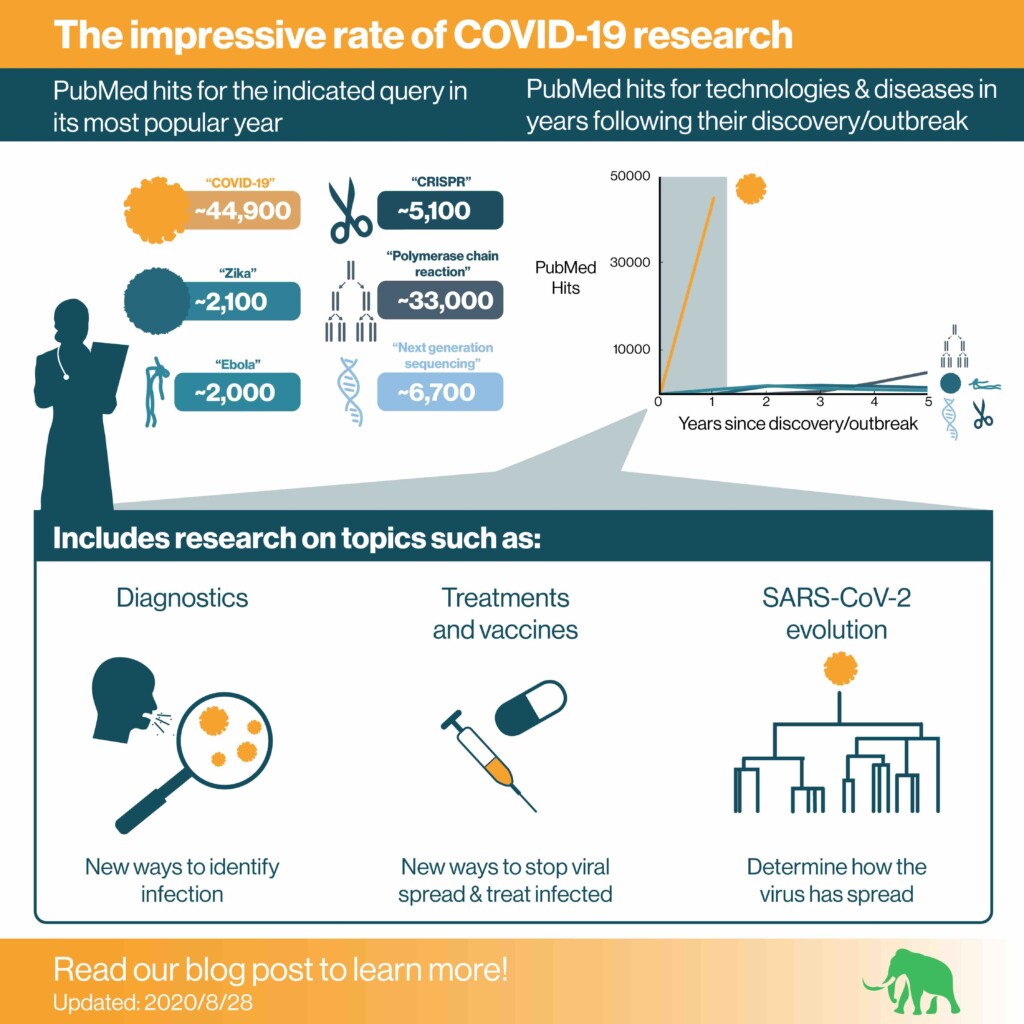 As of May 2021, the COVID-19 pandemic has claimed more than 3.4 million lives. With this number growing daily, researchers have rapidly focused their efforts on learning more about COVID-19 and the virus that causes it (SARS-CoV-2).
The pivot toward COVID-19 is evident in the dramatic increase in COVID-19 publications since the start of the pandemic. Indeed, by querying PubMed with the search terms "COVID-19" and "SARS-CoV-2", one gets over 50,900 hits from 2019 and 2020. This is an impressive publication rate and is a testament to scientists' dedication to stopping the pandemic!
Putting the COVID-19 publication rate in context
The increase in COVID-19 hits far outstrips that of similarly important biology topics. "Next generation sequencing" and the "Polymerase chain reaction", two technologies used ubiquitously in biology research fields, only broke the 5000 hit/year mark years after their original invention.
The focus on COVID-19 even overtakes CRISPR research. Despite its discovery in 2003 and adaptation for genome editing in 2013, CRISPR didn't achieve more than 5,000 PubMed hits per year until 2019.
Finally, in relation to other recent disease outbreaks, the rate of COVID-19 hits far outstrips "Zika" and "Ebola." Neither of these terms broke 2,500 hits per year in PubMed.
Pre-prints and peer review
In addition to standard, peer-reviewed publications in scientific journals, the COVID-19 pandemic has come with the wide-scale use of pre-prints. These are open-access forms of research manuscripts made available online prior to peer-review and publication in a scientific journal. While pre-prints are not reviewed by classic means and should be carefully scrutinized by experts in the field, they provide researchers with an excellent means of quickly disseminating new data to other scientists.
For example, we uploaded a preprint of our recent work developing a CRISPR-based SARS-CoV-2 DETECTR to the preprint server medRxiv This was prior to its peer review and publication in Nature Biotechnology. Uploading the manuscript to medRxiv enabled us to quickly showcase our dedication to developing COVID-19 diagnostics. It also gave other researchers early, open access to our techniques should they wish to work with us in the future.
Nonetheless, submitting our SARS-CoV-2 DETECTR to a scientific journal was also essential. This enabled us to refine the work with helpful comments from peer reviewers and gave it added legitimacy.
Many kinds of COVID-19 research
So what's contained in all these preprints and publications? Of course, we're focused on creating COVID-19 diagnostics, but there's all sorts of research going on. Digging through the literature, you can find great publications on topics including:
Using science to slow and stop the spread of COVID-19
While the toll from COVID-19 is unprecedented, it's inspiring to see an equally unprecedented response from the research community. As research continues, scientists around the world will refine diagnostics, drugs, vaccines, and social practices. With the backing of incredible scientific advancement, we will slow and stop the spread of SARS-CoV-2.
Learn about our CRISPR-based SARS-CoV-2 detection platform for commercial labs!