Tyler Ford
04/28/2020
We regularly invite scientists to present their research to the Mammoth team. This facilitates collaborations and expands our knowledge of important topics including CRISPR, genome editing, diagnostics, and more. Rather than keep what we learn to ourselves, we've decided to share it with you through our Mammoth interviews series. This series features short Q&As with the many interesting scientists who speak at Mammoth. Get ready for some fascinating science and even more fascinating people!

In this post, we feature Dr. Ming X. Tan, Founder and CEO of Wainamics, developer of consumable and customizable microfluidic devices with applications in a wide variety of biological assays. Read on to find out more about Dr. Tan's fascinating career path and the promising applications of microfluidics.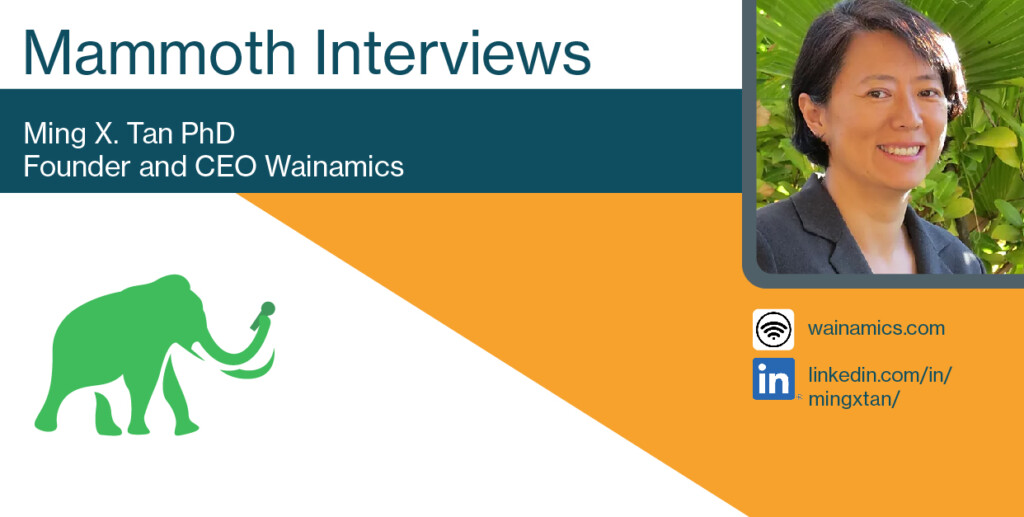 You have had a diverse scientific career spanning academia, industry, founding multiple companies, and consulting. What has guided your career decisions?
I tend to follow my personal interests in technology. I have been in love with Lab-on-a-Chip since the 90s. It provides the possibility to streamline labor intensive laboratory processes and reduce reagent cost. It also enables diagnostics for sites with limited or no access to labs.
What has your favorite role been?
Running cross discipline product development projects with extraordinary engineers and scientists. Transforming proof of concept to product, for example the NASA BioSentinel device, HIV CD4 cell testing device, Electrochemical sensing point-of-care device, DNA sample prep device, and the Factor VIII hematology test device.
What advice can you give to similarly ambitious scientists hoping to start their own companies or move into more business development-focused roles?
Don't be afraid to try new things. Treat your own career like an experiment. You need data to support your instincts.
How and why did you get into microfluidic manufacturing and development?
I see a lot of time and money wasted in the development of products in the field because of lack of communication between biologists and engineers. Consumable fluidic devices are at the interface between biology and engineering, bioassays and instruments. At Wainamics, we are a group of people who are passionate about being the middle translator.
What have been some of your favorite applications of microfluidics in the last 5 years?
Organ on a chip, droplet chips for single cell sequencing, and molecular diagnostics. It's very exciting to see the expanding applications of microfluidic technology and more commercial products that use microfluidics.
What do you see as the future of microfluidics in the next 5 years?
I think the field is finally starting to realize its potential and will be one of the high growth areas in the next 5 years. There is a constant rising demand for advanced technologies and microfluidics offer advantages such as portability, rapid analysis, reduced costs, novel detection, and multiplex analysis. However, assay integration is the key. We need to develop microfluidic devices that can provide high assay performance. Wainamics specializes in this area.