Mammoth Biosciences
04/12/2021
The State of COVID-19 testing in terms of availability and turnaround time has changed dramatically throughout the course of the pandemic. To get a better understanding of how Mammoth can support the testing community, we conducted a survey of COVID-19 testing labs that was completed by over 500 testing lab professionals between February 23rd and March 10th, 2021.
We'll share key findings from the survey over the next couple of weeks via the Mammoth blog and release an in-depth report shortly!
In this post, we cover the desire for increased COVID-19 testing capacity and challenges faced by different types of labs. Descriptions of these labs can be found in the figure below.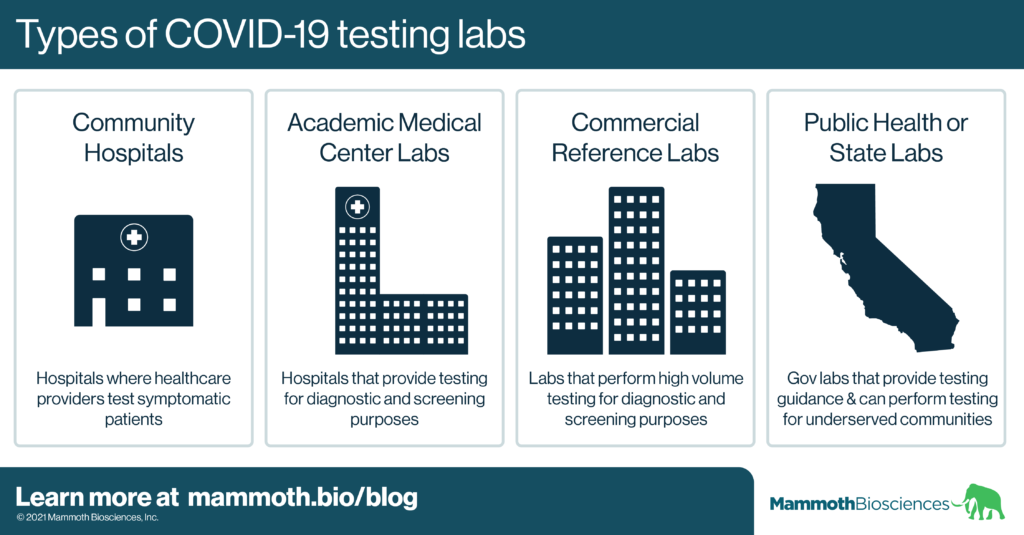 The takeaway: The majority of labs would like to increase capacity but are still suffering from personnel shortages and reagent supply chain issues.
Respondents from all types of labs would like to increase testing capacity
Most survey respondents (64%) indicated they would like to increase COVID-19 testing capacity. In the graphic below, we breakdown this desire to increase capacity by lab type (see this blog post for a breakdown by lab size).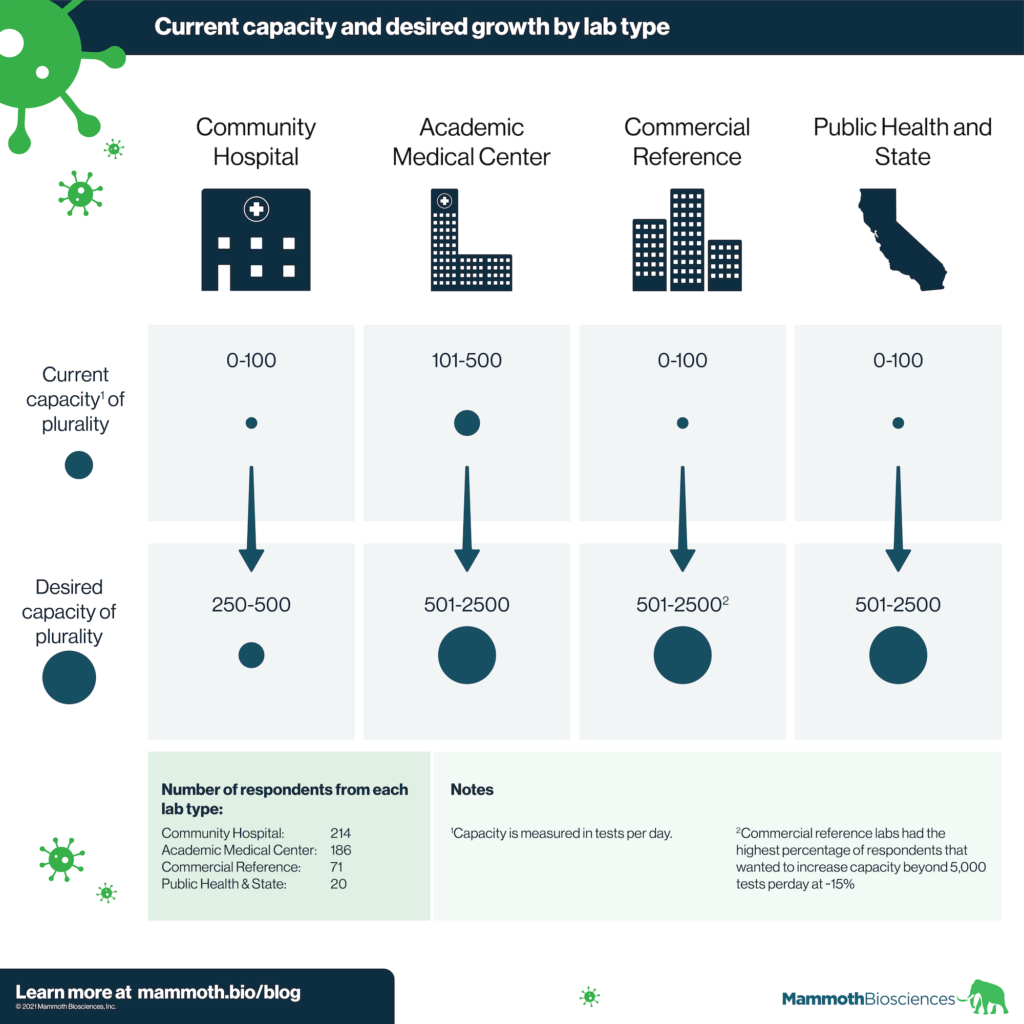 While many labs surveyed want to increase their capacity to thousands of tests per day, Community hospitals, some of the smallest labs surveyed, want to increase capacity marginally to the next tier of hundreds of tests per day. As the full report highlights, community hospitals are a bit of an anomaly in terms of the size of the patient population they serve; many academic medical centers, commercial reference laboratories, and public health & state labs already test more than 100 samples per day. Many of these labs also have an appetite to grow beyond 5,000 tests per day! Thus, these three types of labs are still unable to meet ongoing testing demand.
Availability of personnel, reagents, consumables, and lab space are consistent barriers to increased capacity
To get a better understanding of the barriers that might prevent these testing labs from increasing capacity we asked:
"What are the top 3 barriers keeping you from increasing capacity?"
Respondents could select 3 responses from the following list:
Availability of personnel to run testing
Consistent supply of COVID-19 reagents/assay kits
Consistent supply of consumables i.e. pipet tips
Laboratory space
Providing an efficient turnaround time
Capital equipment outlay
Difficulty with pooling samples
Other (please specify)
In aggregate, only ~8% of respondents selected "other." We did not discern any prominent trends among their responses.
The above figure shows the highest ranking barriers across different types of labs. Availability of personnel was a top barrier for all types of labs. Hiring and retaining technicians remains an issue as other testing comes back on line. COVID-19 testing is now having to compete for scarce resources making matters worse.
The second most consistent barrier was availability of COVID-19 reagents/assay kits. All labs appear to have difficulty sourcing components like standard enzymes and other assay components.
The remaining barriers show how labs differ. All but commercial reference labs ranked supply of consumables within their top 3 barriers. All but academic medical centers ranked laboratory space as one of their top 3 barriers.
Thus, all labs will benefit from new testing modalities that decrease personnel requirements and rely less on stressed reagent supply chains. Commercial reference labs may specifically benefit from modalities that use fewer consumables. And all but academic medical center labs will benefit from testing modalities that use less lab space.
Public health and state labs buck the trend of other labs in the absolute order of their rankings as these labs will benefit the most from testing modalities that use less lab space and consumables.
Reserve a copy of our full report for more insights!
For a more in-depth look at current capacity, desired growth, and barriers faced by various types of labs, we encourage you to download the full "State of COVID-19 laboratory testing" report.