Mammoth Biosciences
03/24/2021
The State of COVID-19 testing in terms of capacity, barriers, types of tests available, and turn around time has changed significantly throughout the course of the pandemic. To get a better understanding of how Mammoth can support the testing community, we conducted a survey of COVID-19 testing labs that was completed by over 500 lab testing professionals between February 23rd and March 10th, 2021.

We'll share key findings from the survey over the next few weeks via the blog and release an in-depth report shortly!
In this post, we cover testing capacity. The key takeaway: The majority of testing labs surveyed want to increase their testing capacity.
COVID-19 testing in the US
At the start of the pandemic, it was difficult for many people to get a SARS-CoV-2 test (referred as "COVID-19 testing" throughout this and future posts). Furthermore, testing labs had difficulty using the CDC's original test kits. As a result, many organizations created and validated their own testing systems, referred to as laboratory developed tests (LDT's).
As the pandemic wore on, testing availability increased and many businesses and schools established screening protocols that allowed them to limit the spread of the virus. Thus, assisting people to get back to work.
We conducted our survey to understand how testing labs are currently thinking about COVID-19 with respect to capacity, types of tests, and barriers limiting testing.
In terms of capacity, we specifically asked:
"How many COVID-19 samples per a day is your lab currently testing?"
and
"How many tests per a day is your lab looking to scale to?"
The answer – the majority of labs would like to increase their COVID-19 testing capacity! Despite the decreasing case numbers, roughly 64% of those surveyed would like to increase capacity.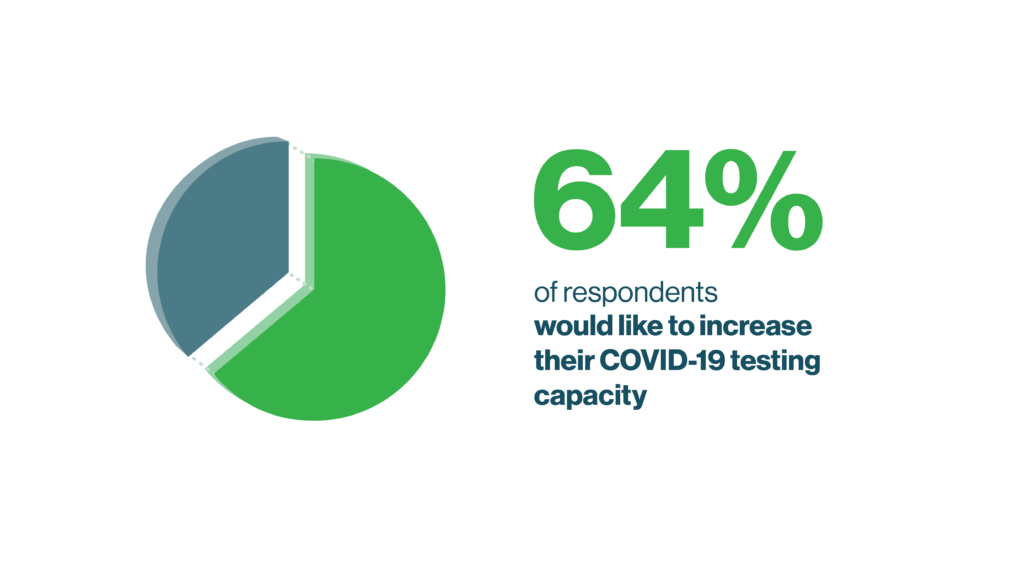 Here are our findings based on the breakdown of survey responses from labs of various sizes:
The majority of the smallest labs (0-100 tests per day) are not looking to increase capacity.
50% or more of the labs running > 100 tests per day are looking to increase capacity.
In fact, a full 82% of mid-sized labs (501-1000 tests per day) would like to increase capacity.
The infographic below provides the breakdown of labs based on size and desired increase in capacity.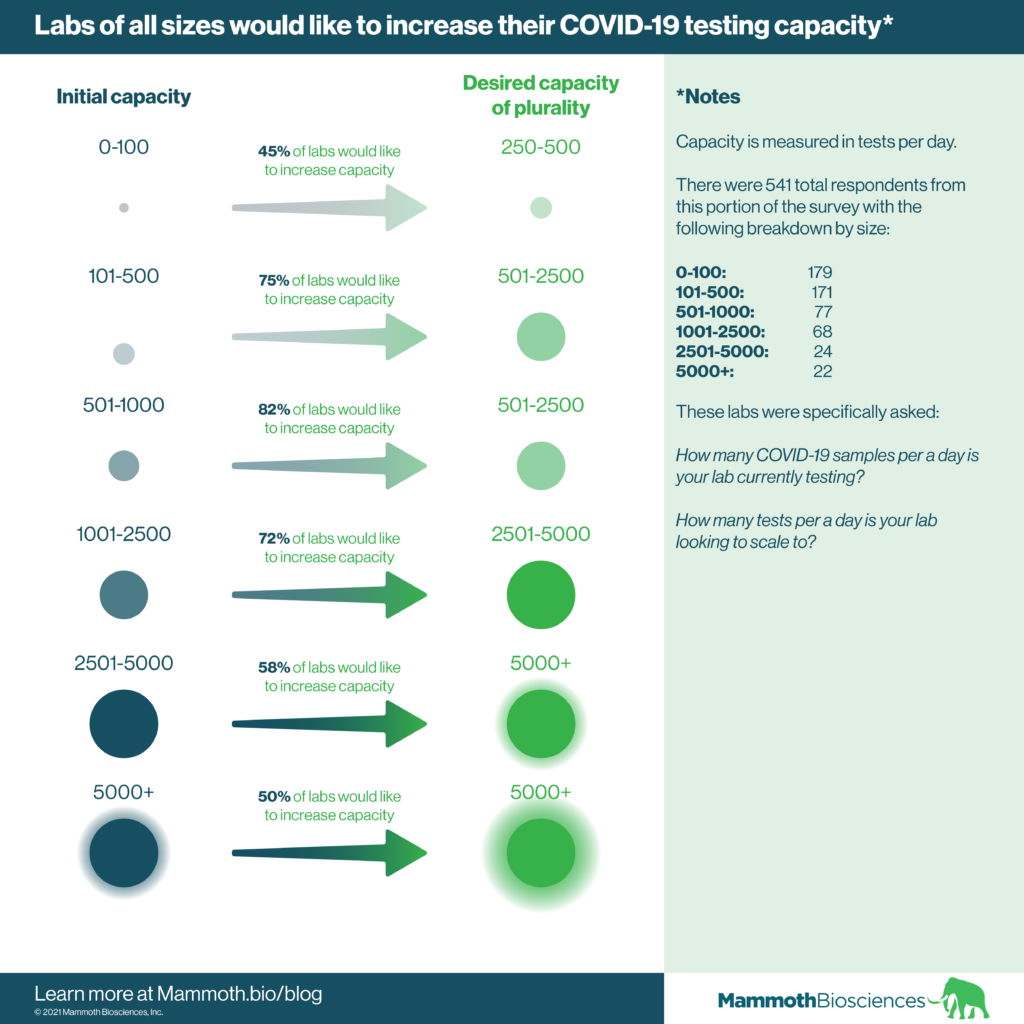 What is motivating COVID-19 testing labs to increase capacity?
It may seem counterintuitive that labs want to increase capacity while COVID-19 case numbers are decreasing. But we believe there are a few key factors driving this:
Testing labs anticipate surges in the months to come.
As we have noted in a previous blog post, COVID-19 is expected to stick around in some form for the months and years ahead. Similar to the flu, there may be surges in cases at different points throughout the year. There may also be localized hot spots. Testing labs may want to increase capacity to make sure they are ready for these surges.

Increased testing for workplaces and schools.
As more people return to work and school, many organizations may start implementing routine testing to help limit future outbreaks. Indeed, experts anticipate that testing will be a key component of re-opening even as vaccines roll out (e.g., see this Axios article and this STAT News article). Amazon has even begun routinely testing some of its warehouse workers.

Labs may want to increase overall testing capacity and capabilities.
The Association for Molecular Pathology recently conducted its own series of testing surveys. One of their findings is that many testing labs have redirected resources from other kinds testing toward COVID-19. As these labs look to get back to other kinds of (incredibly important!) tests, they may want to bring on COVID-19 testing modalities that use fewer resources and personnel.
Of course, increasing capacity is not as simple as purchasing more equipment, tests or hiring people! There are fundamental challenges that vary by lab types and that limit how capacity is increased. All of which we will be covering in an upcoming blog post and presenting in our State of COVID-19 Laboratory Testing Report!