Tyler Ford
02/24/2021
UPDATE 3/10/2021: The survey is now closed. We will be publishing a report based on the survey soon!
Many have called for increased testing since the beginning of the pandemic (e.g. see this STAT news article from September 2020 and this Nature News Article about President Biden's COVID-19 strategy from January 2021). As the U.S. faces surges of COVID-19 cases in the year ahead, U.S. testing labs are likely to confront continued issues with testing capacity.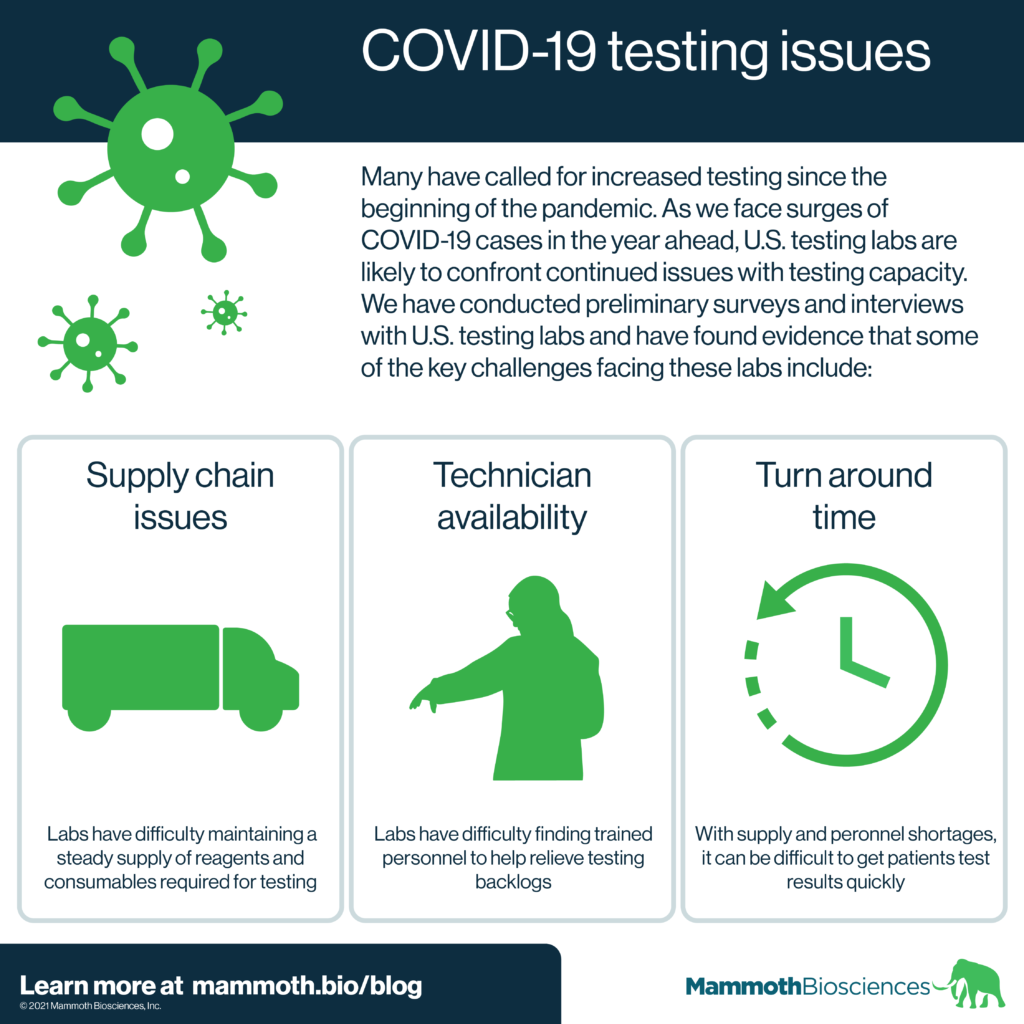 We have conducted preliminary surveys and interviews with U.S. testing labs and have found evidence that some of the key challenges facing these labs include:
Supply chain issues – Labs have difficulty maintaining a steady supply of the reagents and consumables required for testing.
Technician availability – Labs have difficulty finding trained personnel to help relieve testing backlogs.
Turn around time – The above issues can make it difficult to get results back to patients quickly.
To get a better idea of the state of COVID-19 testing and the relative importance of the challenges facing testing facilities, Mammoth is conducting an in-depth survey of COVID-19 testing labs.
Breaking down testing issues across various types of labs
Importantly, our preliminary surveys indicate that different types of testing labs face different challenges. The various types of facilities we hope to hear from are outlined in the graphic above and text below.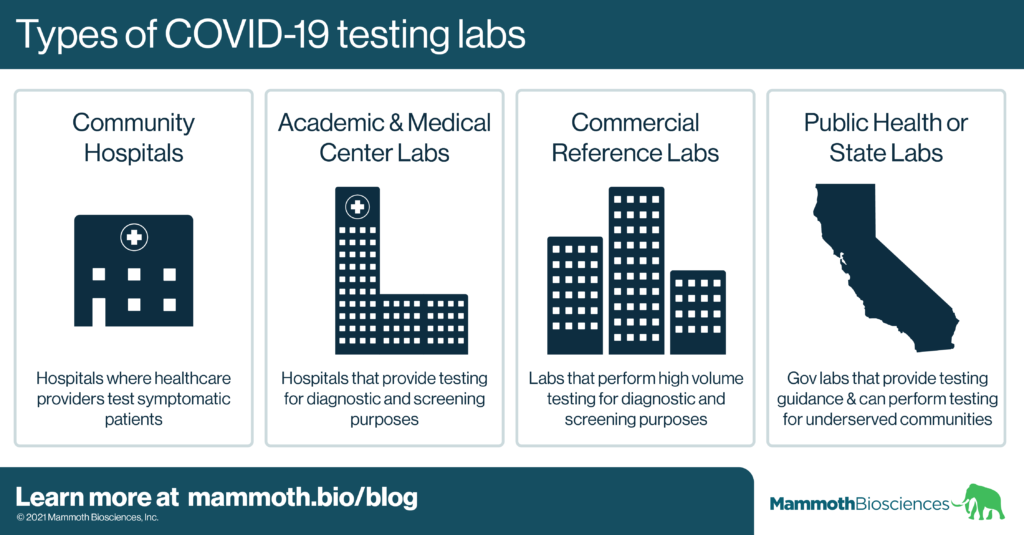 The types of COVID-19 testing labs we're particularly interested in hearing from include:
Community Hospitals – Hospitals where testing is generally done on symptomatic patients for diagnostic purposes.
Academic & Medical Center Laboratories – Hospitals and medical centers that perform testing on symptomatic and asymptomatic patients for diagnostic and screening purposes as well as to understand trends in the general population.
Commercial Reference Laboratories – These labs perform high volume testing for diagnostic and screening purposes. Screening can be performed for business and schools.
Public Health or State Laboratories – Government-run laboratories that monitor people, the environment, and our food/water sources for public health hazards. These labs can perform testing to help communities that do not otherwise have access to testing.
Benefits of filling out the survey
By filling out the survey, you'll provide us with a clearer picture of the state of COVID-19 testing in the U.S. We'll use the results from the survey to generate a report on the state of COVID-19 testing and we'll make this report available to the public.
As a special incentive, the first 25 to complete the survey will be eligible to win a $25 Amazon gift card!
Learn about Mammoth Bioscience's high-throughput testing solution, DETECTR BOOST™ SARS-CoV-2