Mammoth Biosciences
01/12/2021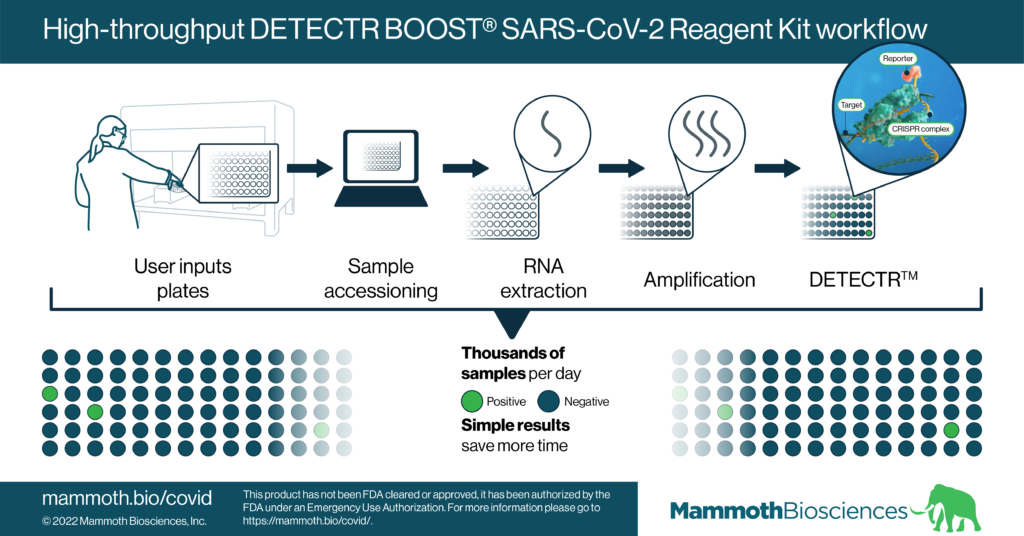 With the current surge in COVID-19 cases, laboratories are once again struggling to keep up with testing demand and meet the critical 24-48 hour turnaround time required for effective management and maximum reimbursement. Testing capacity has seen dramatic growth over the last 6 months. Testing labs in the United States are now running more than 1.8M tests per day – over double the average of 700,000 tests per day in July! Yet, it is still not enough to test all those that should be tested to effectively control the latest surge.
So what is holding back needed testing capacity? There are three main issues:
1. Supply chain issues with hardware, reagents, and consumables
2. Shortage of qualified laboratory personal (Full time equivalents or "FTE's" in business speak)
3. Current platforms were never designed to handle these volumes.
COVID-19 testing has made us rethink everything involved in high-throughput testing. This includes all aspects from sample collection, to automation, to new purchasing structures. And, at Mammoth, we think we have a solution!
Mammoth Bioscience's high-throughput testing solution
The NIH launched its Rapid Acceleration of Diagnostics (RADx) program on April 29, 2020. This program's mission is to bring new testing solutions to market and rapidly increase testing capacity. Mammoth secured a contract from RADx in July and we've been working on bringing CRISPR into the high-throughput COVID-19 testing arena ever since.
One major benefit of CRISPR in this context is its speed. We're coupling this speed with automation to deliver a new level of high-throughput testing. We believe our technology may help to ease the three main constraints of supply chain, FTEs, and testing capacity. Furthermore, our programmable CRISPR technology makes the platform an attractive offering for the future development of additional disease targets.

Our solution is called the DETECTR BOOST® SARS-CoV-2 Reagent Kit. It combines the speed of CRISPR diagnostics with automated liquid handling equipment. This high-throughput platform has been designed to perform thousands of samples per day with minimal hands-on time.
This is up to 5 times more tests than other high-throughput platforms. The platform is also compatible with swab and saliva sample types. Other possible benefits from the platform include lower FTE requirements to run the platform, less reagent supply chain risk, and reduction in plastic pipette tip usage on a per test basis.
Sign up to get more information about the DDETECTR BOOST® SARS-CoV-2 reagent kit
This project is supported by the NIH Rapid Acceleration of Diagnostics (RADx) program and has been funded in whole or in part with Federal funds from the National Institute of Biomedical Imaging and Bioengineering, National Institutes of Health, Department of Health and Human Services, under Contract No. 75N92020C00011.
This product has not been FDA cleared or approved, it has been authorized by the FDA under an Emergency Use Authorization. This product has been authorized only for the qualitative detection of nucleic acid from SARS-CoV-2 in nasopharyngeal, anterior nasal, mid-turbinate nasal or oropharyngeal swab specimens from individuals suspected of COVID-19 by their healthcare provider, not for any other viruses or pathogens and only with the Agilent Bravo BenchCel DB liquid handling platform.
The emergency use of this test is limited to authorized laboratories certified under the Clinical Laboratory Improvement Amendments of 1988 (CLIA), 42 U.S.C. § 263a, that meet requirements to perform high complexity tests, and for the duration of the declaration that circumstances exist justifying the authorization of emergency use of in vitro diagnostics for detection and/or diagnosis of COVID-19 under section 564(b)(1) of the Federal Food, Drug and Cosmetic Act, 21 U.S.C. § 360bbb-3(b)(1), unless the declaration is terminated or authorization is revoked sooner.